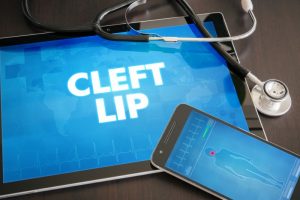 In the United States, over 4,000 babies are born each year with a cleft lip or palate. These birth defects are more than just unsightly; they can hinder a child's ability to properly use their mouth and even increase the risk of infections. But what causes these defects? An oral surgeon in Houston is here to discuss why a baby's oral structures sometimes do not form properly.
Abnormal Orofacial Development
During a normal pregnancy, an unborn child's lips and palate form in the second or third mouth. Cells fuse together to create the orofacial structures and prepare them to function in the outside world. However, sometimes the cells do not fuse properly. This leads to a cleft (an abnormal open space).
In many cases, a cleft lip or palate is due to genetic factors; either the more or father can pass on a gene that causes the condition to occur. Sometimes, environmental factors contribute to the defect. It is also possible that a child has the gene for a cleft lip or palate but then an environment factor actually causes the cleft to form. However, despite all the possible causes of cleft lip, it isn't uncommon for doctors to be unable to pinpoint an exact reason why a child is born with this condition.
Risk Factors for Cleft Lip and Palate
There are a number of risk factors that can increase a child's risk of developing a cleft lip or palate:
Family history. If either of a child's parents had a cleft lip or palate, their baby is more likely to have the same problem.
Substance exposure. If a woman smokes cigarettes, drinks alcohol, or takes certain medications during pregnancy, cleft lip and palate may be more likely to occur in her child.
Mothers who are diagnosed with diabetes prior to pregnancy may be more likely to have a child with a cleft lip or palate.
It is possible that obese mothers are more likely to give birth to children with a cleft lip or palate.
Correcting Clefts
Cleft lip and cleft palate are usually recognized at birth, and doctors can start working right away to correct the problem. They may refer parents to a Houston oral surgeon who is experienced at performing the procedures that will help the child's orofacial structures to function normally. The surgeon will work alongside other specialists, such as an orthodontist, plastic surgeon, and others, to create a treatment plan to help the baby. Often, it is possible to carry out the surgeries in a way that leaves minimal scarring.
In addition to surgeries in childhood, someone born with a cleft palate may need to visit oral surgeons in Houston later in life to correct developmental problems with the jaw or teeth.
Cleft lip and cleft palate are serious conditions, but fortunately, it is often possible to fix these issues so a child can live a normal, healthy life.
About the Author
Dr. Steve L. Koo is one of two Houston oral surgeons at Piney Point Oral and Maxillofacial Surgery. He has a particular interest in cleft palate surgery. If you would like to learn more about his expertise in this field, contact us at 713-783-5560.