Dental Implant-Supported Dentures - Houston
Flawless Tooth Replacement Options
In the past, traditional dentures have been the go-to method for patients in need of extensive tooth replacement. However, while dentures can provide the illusion of natural teeth, they tend to be uncomfortable and bulky to wear, not to mention unstable - many patients who wear dentures have experienced plenty of embarrassment, with their dentures falling out of place while eating, speaking, or even laughing. Dr. Thomas Weil and Dr. Steve Koo understand your frustration, which is why they're happy to offer a new restorative dental care technique: dental implant-supported dentures for Houston, TX oral surgery patients. With the help of dental implants, your dentures can now fit much more comfortably and sturdily, giving you new-found confidence in your smile.
How Do Dental Implant-Supported Dentures Work?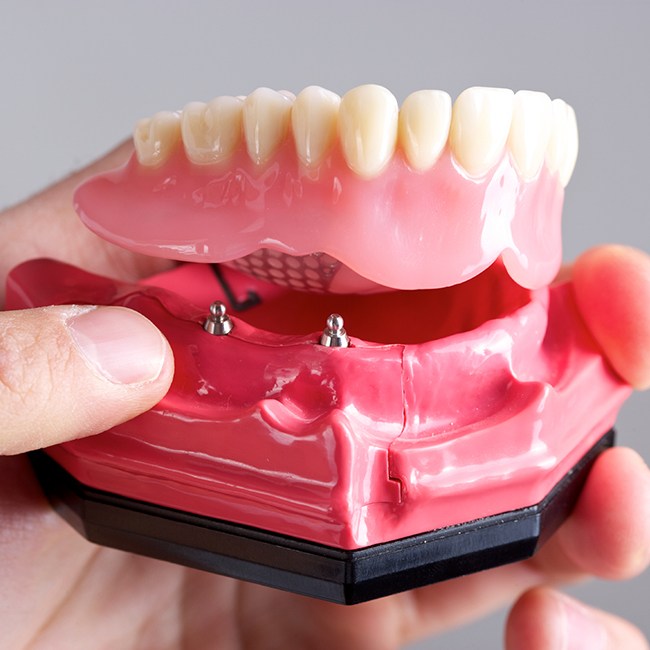 There are two types of implant-supported dentures provided for patients at Piney Point Oral & Maxillofacial Surgery:
Bar-retained dentures involve the placement of a curved metal bar that is held in place by dental implants. The denture is then attached to this bar with the help of clips.
Ball-retained dentures involve the placement of dental implants that each have an attachment on their end. This attachment then fits into points along the denture, securing it in place.
Typically, implant-supported dentures take two surgeries to complete. First, the dental implants will be placed. After an appropriate amount of recovery time has passed (usually three to six months), another oral surgery procedure is performed which removes the gum that is covering the implants. We will then be able to attach your dentures to the implants, completing the dental treatment.
Implant-supported dentures are much more stable and comfortable than traditional dentures, while still having the added benefit of being removable, implant dentures can be cleaned every night and placed back into position come morning, resulting in maximum comfort for you.
Schedule a Consultation Today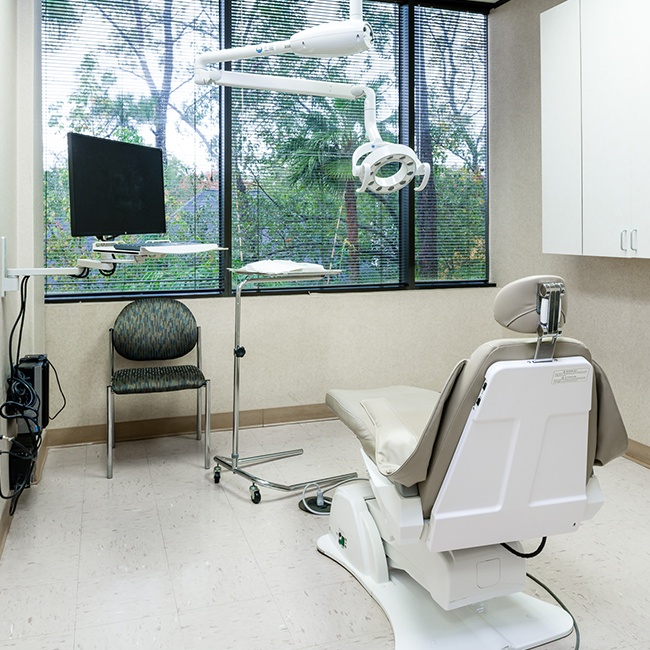 Don't let traditional dentures keep you constantly embarrassed and frustrated when you should be enjoying your life to the fullest. Houston oral surgeons, Dr. Thomas Weil and Dr. Steve Koo, are committed to providing their patients with safe, comfortable oral care that restores your health and happiness as quickly as possible; that's why they're pleased to share with you the best of both worlds with implant-supported dentures from Piney Point Oral & Maxillofacial Surgery. Our Houston oral surgery office serves patients from Stafford, Meyerland, Bellaire, Lamar Terrace, Galleria, Briargrove, Rice Military, Bunker Hill Village, Hunters Creek Village, Hedwig Village, Katy, and throughout Texas. If you'd like to learn more about the numerous benefits of choosing dental implants, call us today at (832) 293-4912 to schedule an appointment.