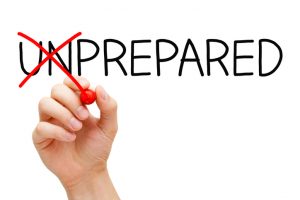 We do our best to make visiting our oral surgery practice a positive experience, but we know that getting ready for any surgery can be stressful. That's why we want to put your mind at ease by helping you feel 100% prepared before the day of your procedure. In this post, we go through some tips to help you improve your experience before, during, and after your oral surgery. The good news is that most oral surgeries are outpatient procedures, so you'll only need to plan on spending one day (usually only a few hours) at our office. Read on to find 12 ways you can prepare for your oral surgery!
Talk to Your Oral Surgeon & Follow All Preoperative Instructions
This one might seem a bit obvious, but make sure you ask us any questions you might have about the procedure during your pre-surgery consultation. We do our best to give you all the information you need for a successful surgery, but we also welcome all of your questions. When we say there's no such thing a silly question – we really do mean it. Please, ask us anything about the surgery. We want you to come into the office on the day of treatment with total peace of mind. At your pre-surgery consultation, we'll also review all of your current medications and health history. Specifically, we'll want to discuss any past experience with surgery and any medications that may impact your procedure or recovery.
Discuss Sedation Dentistry Options
Many surgical procedures require the use of sedation dentistry or general anesthesia to ensure the patient's comfort and safety. Depending on the length and complexity of the procedure, your level of anxiety, and individual pain tolerance, we'll recommend the appropriate sedative option to ensure you have a great experience during treatment and make the fastest and most comfortable recovery. If you've been under anesthesia or sedation in the past, please let us know, especially if you have experienced any adverse reactions during or after sedation.
Discuss Dental Insurance & Financing Options
Discussing financial options can be stressful for many people, but we do our best to offer financing options to help you fit the cost of necessary procedures into your budget. Our knowledgeable team members know the ins and outs of most medical and dental insurance plans, and we can help you maximize your benefits. If you have a health savings account (HSA) or flexible spending account (FSA) as part of your health insurance benefit plan, we can usually accept these forms of payment as well. When necessary, we work with third party financiers to offer payment plans.
Don't Eat or Drink for Six Hours
During your consultation, we give you specific instructions. However, for your safety, you should usually not have anything to eat or drink for at least six hours before surgery. If your procedure is scheduled first thing in the morning, we recommend that you do not consume anything by mouth after midnight the night before. This includes water and medications. If you were prescribed medications (oral conscious sedatives) to take before treatment, you should take these at least two hours before the procedure with just a sip of water. If your surgery is in the afternoon, we recommend you consume only liquids for breakfast, and you should still stop eating and drinking at least six hours before the scheduled surgery time.
If you're going to be using oral conscious, IV, or nitrous oxide (laughing gas) sedation, there may be some flexibility in the fasting recommendations, but if you are receiving treatment under general anesthesia (full sleep dentistry), it is extremely important that you have no food or drink in your system. Eating or drinking before surgery increases your risk for adverse effects, like aspiration, during the procedure.
Get to the Office Early
We recommend you give yourself a little extra time when you leave for the office. If you arrive to our office early, this gives you time for any last minute questions, paperwork, or just a few more minutes to relax before your procedure begins.
Make Sure to Brush & Floss
You should brush and floss thoroughly right before your procedure. When the mouth is clean, this reduces risk for infection and other concerns during treatment. Additionally, we recommend not smoking or using tobacco for at least 12 hours prior to your surgery. We always want to go into the procedure with a clean and sanitized surface to work with. This ensures your best chances for a quick and complete recovery.
Bring A Friend or Family Member to Help with Recovery
You may require heavy sedation for your oral surgery, so be sure to have a friend or family member drive you to and from the office the day of your procedure. We also encourage you to have someone keep an eye on you after you get home. For parents, be sure to arrange for alternative childcare the day of your surgery, as you'll need to rest and relax when you get home.
A Legal Guardian Must be Present for Minors
If the patient is a child or legally a minor, it is essential for at least one parent or legal guardian to be in the office with the patient throughout the procedure.
Be Comfortable
We all want to look our best, but when it comes to the day of your surgery, comfort should come first. We recommend loose fitting (especially around the throat) clothing and short sleeved tops. We'll do our best to avoid damaging your clothing, but we discourage patients from wearing very expensive or favorite clothing items. Don't wear neckties or jewelry. Additionally, you should not wear contact lenses during surgery. Skip your morning makeup routine as well, but make sure to wear lip balm and bring some to the office. Lips tend to be chapped following oral surgery, so a good lip balm will help. You may also want to tie or pin your hair back.
Plan to Rest After the Procedure
Within 30 to 45 minutes, the most profound effects of sedation will wear off, and you will be sent home. However, the residual effects of sedation dentistry and anesthesia can last for 12 to 24 hours (or longer). We encourage patients to plan to be at home and resting for at least the rest of the day, and you should not drive or operate heavy machinery for at least 24 hours after undergoing sedation. To ensure your comfort as you rest following treatment, you should set up extra pillows, so you are propped up as you relax and recuperate. Don't forget to have entertainment available (books, music, movies, TV, podcasts, etc.) to pass the time. You should make sure to pick up any pain medications, antibiotics, or other prescriptions before your procedure and have them available.
Stock Your Fridge & Pantry
After treatment, we usually recommend you have only liquids for at least 24 hours. However, you should avoid drinking through a straw as this can cause damage to the surgical site. After the first 24 hours, you can start incorporating soft foods like mashed potatoes as you feel comfortable. Avoid spicy, hard, crunchy, or very chewy foods for the first few days to a week after treatment. If you try to eat something and it's painful, stop and choose something else. If you notice bleeding, swelling, or lingering discomfort after attempting to eat something, call our office.
Reschedule if You're Sick
We don't ever want to send our patients away, but if you're sick, it may be a good idea to reschedule surgery. Being in relatively good overall health is important to minimize risk of infection and ensure a fast recovery.
Meet the Piney Point Oral & Maxillofacial Surgery Team
At Piney Point Oral & Maxillofacial Surgery, Dr. Koo and Dr. Weil are proud to offer a range of advanced oral surgery procedures. As knowledgeable, experienced, and highly trained oral surgeons, they are proud to partner with patients to help them understand how best to prepare for surgery to ensure a fast and comfortable recovery. When you're ready to get started, don't hesitate to reach out to our team. We're here to help.