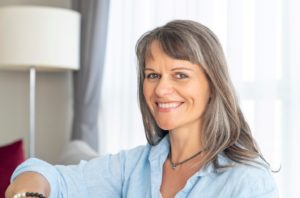 All-on-4 dental implants can replace an entire arch of lost teeth with as few as four dental implants. This efficient, streamlined treatment is one of the most cost-effective ways to restore a smile. However, it does require a surgery. What can you expect while you are on the mend from your procedure? Here is a brief guide to All-on-4 recovery:
The Initial Healing Period
Immediately after your surgery, you can expect some soreness, swelling, and bleeding at your incision sites. To minimize discomfort, you should:
Use any prescribed mouth rinses/medications as recommended by your oral surgery team.
Stick to a liquid diet. Although you will have a beautiful new set of teeth, it will take some time before they are sturdy enough to stand up to your favorite foods.
Gently brush your prosthetic teeth and your gums, being careful to avoid irritating your incision sites.
Regularly rinse with warm saltwater to minimize inflammation and swelling.
As You Heal
Most people find that they are well enough to return to work within a day or two of their All-on-4 surgery. However, you should continue to refrain from strenuous physical activity for at least three or four days.
As your gums recover, you will be able to start eating some fork-tender foods (anything that is easy to cut with the side of a fork). This can include things like scrambled eggs, meatloaf, soft breads, and well-cooked vegetables.
Be sure to attend all recommended follow-up appointments with your oral surgeon. They will monitor your healing process and be able to answer any questions you have along the way. Complications are rare with All-on-4, but if you ever notice any signs of infection or experience significant pain, you should seek help right away.
Getting Your Permanent Teeth
Approximately 3 – 5 months after your surgery, you will get a permanent implant denture to replace the provisional one that you got immediately following your procedure. You can expect its fit and appearance to be even better than what you were previously enjoying. It should also be strong enough to stand up to virtually any food, including relatively hard and sticky ones.
You'll need to continue to adhere to a thorough oral hygiene routine and visit your dentist for routine checkups a few times each year. With proper care, your dental implants have the potential to last a lifetime. Your denture may last for a decade or longer.
All-on-4 recovery takes a few months, but it is a more efficient process than traditional implant procedures. Before you know it, you will have a strong, beautiful, and sturdy smile that you will be proud to show off!
Meet the Practice
Drs. Steve Koo, Thomas Weil, and William Shepard have several decades of combined oral surgery experience. They are proud to off All-on-4 treatment as well as a range of other dental implant procedures. If you have questions about your tooth replacement options, they would be pleased to speak with you. Contact our office at 713-783-5560 to learn more about how our team may be able to serve you.