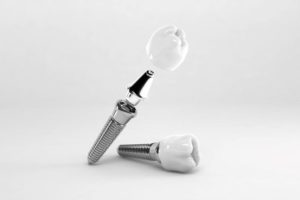 If you are thinking about replacing your missing teeth, you have probably heard about dental implants. These small cylinders, or posts, act as prosthetic tooth roots. They provide a sturdy base for crowns, bridges, and dentures. Did you know that most implants are made out of titanium? What are the benefits of this material? Read this blog post to discover a few noteworthy advantages that you can enjoy with this type of tooth replacement.
Durability
Medical-grade titanium is extremely strong. That means it can stand up to the rigors of everyday chewing and speaking with very little risk of damage. It is highly unlikely that your titanium implants will bend or break unless something extreme happens.
Biocompatibility
"Biocompatibility" is a term used to describe how well a certain material works within the human body. In the past, before titanium implants became standard, dentists tried to use a range of other metals as implants; they often failed because they were not biocompatible.
Titanium, on the other hand, tends to work very well with human tissues. It can form a strong bond with the jawbone. In effect, it almost becomes part of your body. This allows it to provide the strongest foundation possible for your new teeth. Adverse reactions to titanium are extremely rare.
A High Success Rate
Numerous studies have been conducted to examine the success rate of titanium dental implants. They consistently produce impressive results, with many showing that dental implants have a success rate of more than 95%.
The chances of a successful procedure are at their peak when a patient gets titanium implants, is in good health, and strives to take care of their mouth by sticking to a thorough oral hygiene routine and avoiding bad habits like smoking.
Longevity
Titanium dental implants often last for 30 years or longer. In fact, with proper care, they have the potential to last throughout a patient's lifetime. Not only does their longevity make them an excellent monetary value, but it may also spare you from having to undergo extra surgical procedures in the future.
A Well-Established Track Record
In recent years, some dental health professionals have begun to offer zirconia dental implants. While they show potential as a viable alternative for patients who wish to avoid the use of metals in their mouth, they have not been extensively studied. Titanium, on the other hand, has been in use for decades and is widely regarded as reliable.
Titanium dental implants might be the best way to rebuild your smile! If you would like to learn more about them, talk to your oral surgery team.
Meet the Practice
Piney Point Oral & Maxillofacial Center is proud to have three board-certified oral surgeons on our team. Drs. Steve Koo, Thomas Weil, and William Shepard have many years of combined experience. They regularly use their knowledge and skill to help patients replace their lost teeth with titanium dental implants. To learn more about how they may be able to serve you, contact our Houston office at 713-783-5560.