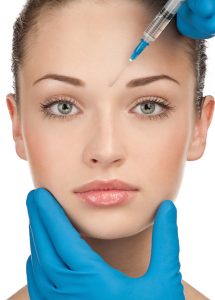 Botox is a popular treatment for people who are interested in improving the appearance of wrinkled or droopy facial tissue. If you are considering having this cosmetic procedure performed, it is important that you learn about the details of just how Botox in Houston works. The procedure itself is rather simple — which is part of the reason why Botox is booming in popularity, up 700 percent since 2000. In our series on Botox, we have covered what it's made of, its applications, and possible side effects. Keep reading to learn more about just how the procedure is performed.  
Treatment for Botox
Botox is a treatment in which botulinum toxin, the bacteria that is used in Botox treatments, is injected beneath the outer layer of facial skin. It comes in powder form, which is mixed with saline solution immediately before treatment is performed. The proportions are very important; too much saline will not produce the desired effects. Once the solution has been prepared, your oral surgeon will target specifically the neuromuscular tissue where wrinkles occur when muscles contract. The Botox substance then disrupts the message to block the contraction of the muscle, which prevents the appearance of a wrinkle.
The sensation of Botox injections has been compared to that of a bug bite or pinprick, so anesthesia is generally not required with Botox. Results will usually start to show within 24 to 72 hours after the treatment. However, in some rare cases it may take up to 5 days for results from Botox to be noticeable. Most Botox results last for between 3 to 5 months before retreatment is recommended.
Most adult patients can safely undergo Botox injections. The average age for treatment is thought to be in the mid-to late-40s, but Botox can have preventive effects when started even earlier. Pregnant women or people who have had allergic reactions to Botox in the past should not undergo the treatment.
Where Can I Learn More About Houston Botox?
From your trusted oral surgeon! Now that you know a little bit more about why Botox has gotten so popular these days, we invite you to go ahead and schedule a consultation to discuss the treatment for yourself. We can't wait to help you enjoy all the benefits of youthful, rejuvenated skin!
Meet the Practice
The team at Piney Point Oral and Maxillofacial Surgery offers a range of surgical and non-surgical treatments, including Botox, from the comfort of their state-of-the-art office. To discuss Houston Botox, you are invited to the practice at 713-783-5560.