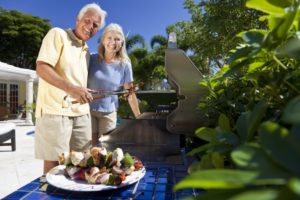 Summertime is chock full of mouthwatering foods. Plus, with the darkest days of the COVID-19 pandemic behind us, this summer and next summer are bound to present lots of opportunities for social eating. Sadly, though, you might not be able to enjoy all of your favorite seasonal treats if you have suffered a degree of tooth loss. Dental implants can help! This sturdy, long-lasting form of tooth replacement can equip you do dig into summer foods without worry.
What Are Dental Implants?
Dental implants are small, screw-like devices that are designed to replace the roots of missing teeth. They bond with the jawbone and serve as the base of support for restorations (crowns, bridges, and dentures) that replace the visible portion of lost teeth. Dentists and patients around the world regard them as the gold standard in tooth replacement.
The dental implant treatment process takes at least several months, so if you start now, you may not be able to take full advantage of their benefits this summer. However, you could very well be feasting on your favorite warm weather delights during the summer of 2022.
What Can You Eat with Dental Implants?
There are no real "off limits" foods when you have dental implants. Unlike traditional dentures, they won't become destabilized if you bite into something that is relatively tough or chewy. For example, you can use them to bite into a whole apple, munch on a raw carrot, or even eat corn straight off the cob. They can also stand up to a wide range of meats, including grilled chicken, juicy steaks, and bone-in ribs.
Tips for Eating with Dental Implants
You don't have to use any special techniques to eat with dental implants. However, just as is the case with natural teeth, there are a few basic precautions to keep in mind:
Be cautious with hard foods. You shouldn't chew on ice, and don't bite down too hard when you are enjoying bone-in meat. You might accidentally end up breaking your restorations.
Consume sugar in moderation. Treats like ice cream, sweetened iced tea, and shaved ice are refreshing during summertime, but be careful not to overdo it. Even though dental implants can't get cavities, sugar still increases the risk that an infection will form in the tissue around them.
Maintain excellent oral hygiene. It's a good idea to brush your teeth about 30 minutes after each meal. Carrying some floss with you can help you get things like bits of meat and corn out from between your teeth.
Visit your dentist for checkups. Routine checkups can help your dental implants to continue serving you well summer after summer for many years.
Tooth loss doesn't have to derail your summertime plans. Dental implants can help you savor all the goodies that this season has to offer.
Meet the Practice
Drs. Steve L. Koo, Thomas Weil, and William Shepard are the oral surgeons at Piney Point Oral and Maxillofacial Surgery. They partner with local dentists to provide start to finish dental implant treatment. If you are curious about your tooth replacement options, they would be pleased to consult with you. Contact us at 713-783-5560.