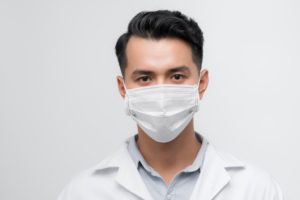 A face mask seems like a relatively simple object. After all, all you have to do is secure it over your mouth and nose, and you are protected from COVID-19, right? Well, not exactly. There are several different types of face masks, each of which has a rating that gives insight into the level of protection it provides. In this blog post, we will discuss those ratings so you can better understand how your oral surgeon is keeping you safe and which type of face mask you should wear in order to protect yourself from contamination.
ASTM Ratings
ASTM International is an organization that publishes and develops technical standards for a broad range of products, including face masks. ASTM divides face masks into a number of different categories:
Utility mask: This is a molded surgical mask and only provides barrier protection without any type of fluid resistance.
Level 1: These usually provide adequate protection for medical professionals when they are performing procedures where low amounts of fluids, spray, or aerosols are released.
Level 2: These offer slightly more protection than Level 1 masks and are the usual choice for procedures where moderate amounts of fluid or aerosols are produced.
Level 3: Level 3 masks come with the highest resistance against fluids and are frequently used during surgery.
N95: N95 masks are respirators that filter out more than 95 percent of airborne particles, including viruses.
What Your Oral Surgeon Wears
Before the outbreak of COVID-19, your oral surgeon may have worn a Level 1 mask during exams and consultations and a Level 3 mask during surgeries. Now, however, more protection is necessary. That is why many dentists and oral surgeons always wear an N95 mask when treating patients. They may also place a Level 3 mask on top of the N95 in order to keep it as fresh and clean as possible. A plastic face shield is often used to provide yet another layer of protection for doctors and patients. Altogether, these personal protective equipment (PPE) pieces virtually eliminate the risk that an oral surgeon will pass a virus onto patients or vice versa.
What You Should Wear
ASTM-rated face masks and N95 respirators are in somewhat short supply these days, which is why the CDC recommends that the general public sticks with wearing cloth face coverings rather than medical-grade PPE. As long as you are careful to maintain social distancing while you are in public, there is no need for you to wear a medical mask.
Face masks are one of the primary defenses against COVID-19. You can be sure that your oral surgeon is wearing the right type of PPE to keep you safe during your appointments!
About the Author
Dr. Steve L. Koo is an experienced oral and maxillofacial surgeon in the Houston area. He has many years of experience and has been awarded Diplomate status with the American Board of Oral and Maxillofacial Surgery. He and the entire Piney Point team are serious about patient health and safety and are taking all necessary measures to prevent the spread of COVID-19. To learn more about our safety protocols, contact us at 713-783-5560.