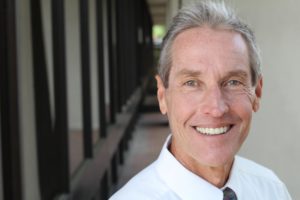 Decay, trauma, gum disease, and genetics can all contribute to the need for tooth extractions. If your dentist recommends that you get a significant number of your teeth removed, it is understandable that you are eager to rebuild your smile. You may ask, "How long will it be before I can get dentures?" As a Houston oral surgeon explains, the answer to that question depends largely on the type of denture you are going to get.
Conventional Dentures
If you opt for a conventional, non-implant denture, you may have to wait at least 6 – 8 weeks after your extractions before you receive your prosthetic. That may seem like a long time, but wearing dentures before then could cause you great discomfort. Your gums will need time to heal after your teeth are pulled.
Immediate Dentures
An immediate denture is a non-implant denture that you can wear right after your tooth extractions. It serves as a sort of bandage to reduce bleeding in your gums. However, while immediate dentures may sound appealing, they do come with some downsides. For example, the do not always look as good as patients hope, and they typically are only used for 2 – 3 months, until a permanent denture is ready.
Implant-Supported Dentures
Many dentists and Houston oral surgeons recommend implant-supported tooth replacement above conventional dentures. That is because the implants act as prosthetic tooth roots, stabilize the artificial teeth above them, and help to preserve the jawbone's structure. The timeline with implant-supported dentures varies greatly from patient to patient. In some cases, an individual must wait 10 weeks or longer after their extractions before they can receive implants. Once the implants are in place, they may need to wait several more months before they can receive a denture to go on top of the implants.
Teeth-in-an-Hour
If you are interested in expediting your dental implant procedure, visit an oral surgeon in Houston who offers Teeth-in-an-Hour. This is a specialized technique that often makes it possible to extract the remaining natural teeth, place dental implants, and attach a denture to the implants — all in the same appointment. The denture is usually a temporary one that will only be in place until your permanent prosthetic teeth are ready.
Which Is Right for You?
The above treatment options are just a few possible paths you may take with your tooth replacement journey. To figure out which one is the best fit for your circumstances, you should consult with qualified oral surgeons in Houston. They can help you both with your tooth extractions and your later tooth replacement if you choose to receive dental implants. Hopefully, it will not be long before you are enjoying all the benefits of a brand-new smile!
About the Author
Dr. Steve L. Koo is an oral surgeon who serves patients throughout the greater Houston area. He is a Diplomate of the American Board of Oral & Maxillofacial Surgery, and he has completed extensive training in dental implants. Teeth-in-an-Hour are among the many services he offers. To learn more about Dr. Koo and our practice, contact us at 713-783-5560.