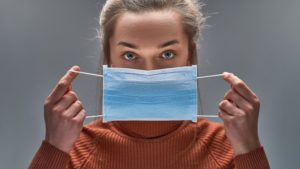 The Centers for Disease Control is recommending that everyone wears a face mask in public settings. Some businesses are even requiring that customers do so. Indeed, there is no doubt that a mask can do much to protect you and those around you from potential contagions, including the coronavirus that causes COVID-19. But a mask is only effective if you wear it wear it correctly. Here are some guidelines to help you make sure that your facial covering is doing its job.
How to Put Your Mask On
Before you put your mask on, make sure your hands are clean by washing them for 20 seconds with soap and water. Then, if you are wearing a surgical mask, check it for any defects before you position it with the colored side facing outward. If the mask has a metallic strip, it should be positioned on the top of the mask. Holding the mask by the ear loops, hook it behind each ear, then press the metallic strip against the bridge of your nose for a secure fit. For masks with tie strings, secure the upper ties before the bottom ones.
If you are wearing a homemade cloth mask, secure it on your head and make sure it covers both your mask and nose. Try to touch the main part of the mask as little as possible while you are putting it on.
Wearing Your Mask
Here are some tips to help you make sure you do not accidentally compromise your mask's effectiveness:
Do not touch the mask; there might be contagions on the outside of it. If it becomes necessary to touch the mask, wash your hands both before and afterward.
Do not hang the mask around your neck.
Do not reuse single-use masks.
If you wear eyeglasses, resist the urge to pull your mask down if it causes your glasses to fog up. Instead, try washing your glasses with a tiny drop of dish soap (the kind without lotion) on each lens. It should create a transparent film that protects your glasses from temperature changes.
Removing Your Mask
Do not touch the main part of your mask while you are removing it. Instead, simply unhook the ear loops. If the mask has ties instead of ear loops, untie the bottom before the top. Then, dispose of the mask in a covered trash container (if it is single use) or toss it in the laundry bin (if it is a reusable cloth mask). After your mask is off, thoroughly wash your hands or use hand sanitizer.
Are you wearing your face masks correctly? If you see any room for improvement in your habits, now is the time to implement changes that will help to keep you as safe as possible throughout the COVID-19 pandemic.
About the Practice
Drs. Steve Koo and Tom Weil are the leaders of the team at Piney Point Oral and Maxillofacial surgery. They have several decades of combined experience, and they are determined to serve patients as safely as possible during this time of COVID-19. They ask that patients wear face masks in our office when they are not undergoing treatment. To learn more about our doctors, our team, and how we are doing our part in the fight against COVID-19, contact us at 713-783-5560.