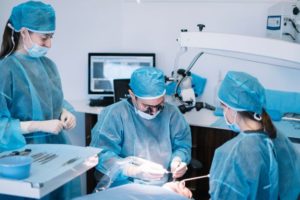 If you are missing all or most of your teeth, you are probably contemplating the prospect of getting dentures. Prosthetic teeth have the potential to renew your smile and restore your ability to eat most foods. But what can you expect throughout your treatment journey? Is surgery necessary before getting dentures? In some cases, yes, surgery is an important stepping stone on the path to a recompleted smile. Read this blog post to learn more about this aspect of the treatment process.
Pre-Prosthetic Surgery: The Basics
Some patients require surgery before they are able to get dentures. Here is an overview of a few common pre-prosthetic procedures:
Surgical tooth removal. Your general dentist can probably remove all of your remaining natural teeth if necessary. In some instances, though, a patient has teeth that are impacted (stuck beneath the gumline) that should be extracted by a specialist.
Smoothing of the jawbone. The shape of the jawbone has a direct impact on how well dentures fit. It may need to be smoothed out before you can enjoy a comfortable new set of prosthetic teeth.
Removal of excess bone. Some patients have protrusions of bone that would interfere with their mouth's ability to support dentures. Surgery can be performed to remove tissue from those areas.
Removal of extra gum tissue. Similar to excess bone, excess gum tissue can interfere with the fit of dentures. A laser can be used to trim the gums and create an oral environment that is hospitable to a new prosthetic.
How Will Surgery Affect Your Tooth Replacement Journey?
If your general dentist determines that you require pre-prosthetic surgery, there is nothing to worry about. You will likely be referred to a local oral surgeon, who will assess the specifics of your situation and answer all your questions about your upcoming procedure.
Your surgery will probably extend your total treatment timeline. You may need a few weeks or longer to heal before you can return to your general dentist to get fitted for your new teeth. Your patience, though, will be well worth-it when you get to enjoy a secure, comfortable new set of teeth.
Additionally, your surgery is likely to increase the overall cost of your care. Your oral surgery team can help you learn about payment options, such as insurance and financing, so the financial aspect of your treatment is as low-stress as possible.
In some cases, surgery is an essential part of the denture treatment process. It can prepare your mouth to be a good host for your beautiful new teeth!
Meet the Practice
Drs. Steve Koo, Thomas Weil, and William Shepard are the board-certified oral and maxillofacial surgeons in our Houston practice. They are pleased to work with local general dentists to help patients enjoy a successful tooth replacement journey. To learn more about them and the pre-prosthetic services they provide, contact our office at 713-783-5560.