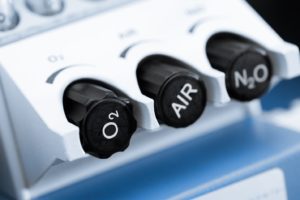 If you get a little nervous when it is time for you to undergo dental procedures, you might be a candidate for sedation. There are several forms of sedation, but one of the most common is nitrous oxide, which is otherwise known as laughing gas. It may be just what you need to breeze through your next appointment! Read on below to learn some basic facts about this type of sedation.
Nitrous Oxide Has Been Used for Centuries
An English scientist first discovered nitrous oxide in the late 1700s. Since then, this colorless, mostly odorless gas has become firmly established as a safe and easy way to help patients relax during medical and dental procedures.
There Are No Needles or Pills
IV sedation involves the use of needles, and oral conscious sedation requires that you swallow a pill. If needles and pills are unappealing to you, nitrous oxide could be your ideal sedation option. Your dental team will simply fit you with a nasal mask, which will be connected to a machine that contains the nitrous oxide. All you have to do is breathe, and you should begin to feel the gas's sedative effects.
There Is No Downtime
Most forms of sedation have effects that linger for at least several hours after a dental procedure. This can interfere with your ability to drive and carry out other daily tasks. Nitrous oxide, however, is different. Once your nasal mask is removed, you should get back to feeling normal within just a few minutes. While you might have to modify your daily routine as you recover from your procedure, nitrous oxide will not impede you if you have to run errands or go back to work or school.
You Can Expect to Be Safe
Nitrous oxide is considered to be quite safe. It is mixed with enough oxygen to reduce the risk of adverse reactions. If you experience side effects, they are likely to be quite mild and could include things like nausea and a headache.
Nitrous Oxide Feels Good
When you first begin to breathe in the nitrous oxide, you can expect to feel relaxed. Some patients also experience a degree of silliness or giddiness (which explains why nitrous oxide is often called laughing gas). You will still be alert enough to respond to questions and directions from your dental team.
It Is Not Right for Everyone
Nitrous oxide is a great option for people who need a little help to feel comfortable and relaxed in the treatment chair. However, if you are undergoing a particularly complex or invasive procedure, you might need a more powerful form of sedation. Your dental or oral surgery team will help you compare your options.
Would you like to enjoy a stress-free dental experience? Ask your care provider if nitrous oxide is right for you!
Meet the Practice
Piney Point Oral & Maxillofacial Surgery is home to three board-certified oral surgeons. Our team wants patients to be comfortable during treatments, so we offer multiple types of sedation, from mild nitrous oxide to powerful general anesthesia. To learn more about us and how we can help you enjoy improved oral health, contact us at 713-783-5560.