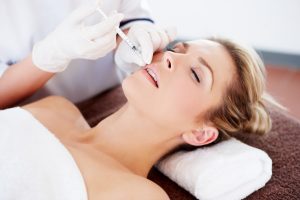 Does your outer skin reflect your best you? You know, the version of yourself that's confident, energized, and ready for anything. If you're like most adults, the answer is a big no. That good old Texas sun, daily stress, and simple aging take a real toll on the facial tissue. Dr. Koo at Piney Point Oral and Maxillofacial Surgery can quickly rejuvenate your appearance with cosmetic facial treatments. Botox injections and dermal fillers are two popular options for refreshing your skin — but they're not the only ones.
Cosmetic Facial Treatments Just In Time for the Holidays
With a variety of trusted, effective procedures, Dr. Koo can fix just about any cosmetic imperfection on your facial tissue. Unsightly mole? Acne scarring? Cheeks that look too full? Or maybe you just want to look younger and more refreshed — like you've just woken up from the best sleep of your life. It's possible with Botox or dermal fillers.
What Is Botox? Who Is It For?
Botox is a safe, concentrated neurotoxin that is injected just below the surface of crow's feet and smile or frown lines. Once here, it paralyzes the muscles that cause the contraction and the resulting wrinkles.
Botox requires no anesthesia and is completed in just five or so minutes. It's so efficient, in fact, that many patients come in for a quick treatment before work or on their lunchbreak.
When is a good time to start Botox? Many people think it's for middle age or later — but the real answer may surprise you. When you don't wait for serious lines to develop before beginning Botox, it's possible to actually prevent wrinkles from forming by paralyzing the muscles that cause them in the first place. The mid-30s may be a good time to begin thinking about Botox treatments.
What Are Dermal Fillers? How Are They Different From Botox?
Dermal fillers smooth lines and erase wrinkles by plumping the facial tissue underneath. Unlike Botox, they do not freeze the muscles that cause contractions. Instead, they rejuvenate the skin by simply adding to the tissue — making your face appear fuller and more vibrant.
At Piney Point OMS, Dr. Koo offers several types of dermal fillers. They all perform basically the same function, but some may be best used in specific areas of the face. Bellafill, however, does not absorb into the tissue like other fillers. Instead, it is permanently inserted into the facial tissue.
Benefits of Facial Rejuvenation
We know enhancing your appearance with facial rejuvenation is something you've probably been considering for a while. So what are you waiting for? Consider the following benefits of these cosmetic treatments — they are just a few. Which one would enjoy most?
Non-invasive procedures that are practically painless

Long-lasting results

Avoid more invasive cosmetic procedures (like facelift)

Piney Point OMS only offers FDA-approved treatments
This holiday season, invest in yourself for a change. Schedule an appointment for a cosmetic facial treatment at Piney Point OMS. We offer a wide range of treatments in addition to Botox and dermal fillers, including scar revisions, earlobe repair, chin and jaw augmentation, fat removal, and more. Please get in touch with your Houston oral surgeon to discuss what's possible today!