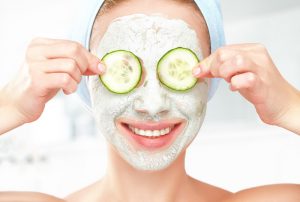 Would you like to reveal younger, more vibrant skin? You don't have to invest in professional help to stop fine lines and wrinkles. There are, in fact, some approaches you can practice every day and do at home to reveal younger-looking skin the more natural way. Your oral surgeon in Houston shares home remedies for wrinkles below — adding them to your daily practice can make a big difference in the appearance of your facial tissue.
How to Get Younger-Looking Skin at Home
Below are some of the most common methods for both preventing future wrinkles and reducing the appearance of current lines and wrinkles, all from the comfort of your home. You may have success sticking with just one approach, or you may want to combine some to enjoy the best results.
Drink more water. Staying hydrated is important for your skin because it keeps the outer layer moist and helps it defend against toxins in the environment.

Wear sunscreen on a daily basis — even when you don't think it's sunny. Choose one that has an SPF 30 or higher that protects against UVA and UVB rays.

Wear a hat to shade the facial skin when you know you will be in direct sunlight.

Wash your face and remove all makeup before you go to bed. Use a toner and a moisturizer before sleeping as well.

Regularly exfoliate the face — you can make a homemade scrub with finely ground sugar and coconut or olive oil.

Use an oatmeal mask to remove impurities and hydrate the skin.

Eat a balanced, nutritious diet with plenty of vitamin C, which plays an important role in nourishing the skin.
Botox for Fine Lines and Wrinkles
Practicing the above habits can make a big difference in the way your facial tissue looks, but some people may want to invest in bigger help. To smooth out more significant wrinkles or to prevent them from forming in the first place, getting Botox from your Houston oral surgeon may be the best approach. This non-invasive treatment works by paralyzing the nerves that cause wrinkles when they contract.
Most people want younger-looking skin, but not everyone needs to invest in a professional treatment to get it. Practicing good skin care at home on a daily basis can help to prevent and/or reduce fine lines and wrinkles. And if that doesn't arrive, there's Botox to help!
Meet the Practice
Dr. Steve Koo and Dr. Tom Weil offer a full list of Houston oral surgery services, including cosmetic Botox and Juvederm fillers. To learn more about Botox or fillers, how they work, or to schedule an appointment, please do not hesitate to contact the office at 832-293-4912.