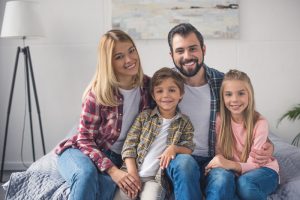 An orthodontist is a dental specialist who is in charge of improving the alignment of the teeth with braces, Invisalign clear aligners, or any other treatment that repositions misaligned teeth. Most of the time, an orthodontist can do their job without needing the help of another type of specialist. However, in some complex cases, an oral surgeon can help to create the right environment for orthodontic treatment to take place. Keep reading to learn more about when an orthodontist may seek the help of an oral surgeon in Houston — and what to expect if your treatment case requires this outside assistance.
Orthognathic Surgery for Imbalanced Jaws
Orthognathic surgery may be required when the upper and/or lower jaws have not developed fully or properly. This can cause a number of issues, including facial imbalance, severe overbite/underbite, and other issues which affect the form and function of the teeth and jaws. The teeth can be realigned with braces (the role of your orthodontist), but when the issue is significant, surgery can help to ensure proper movement and functioning.
The process for an orthognathic surgery will vary based on your particular needs. You should expect to be put under local anesthesia at least and may require general anesthesia for more complex procedures. Your Houston oral surgeon will provide specific post-operative instructions to ensure that you are able to recover as quickly and comfortably as possible.
Tooth Extraction for Crowded Teeth
In addition to more complex orthognathic surgery, your orthodontist may also seek the help of an oral surgeon for tooth extraction when extreme crowding presents an issue for successful orthodontic treatment. Wisdom teeth may also need to be removed before braces can be applied. By carefully removing extra teeth, an oral surgeon can create enough space for the remaining natural teeth to move into the proper position. Tooth extraction involves opening the gum, removing any bone tissue that is covering the tooth, and then closing it once more for healing to begin.
To conclude, visiting an oral surgeon before orthodontic treatment isn't always necessary, but it may be required for more complex cases. Oral surgery in Houston could be an important first step for your new, beautiful, and properly functioning smile!
Meet the Oral Surgeons
Dr. Steve Koo and Dr. Tom Weil are the experts to turn to for Houston oral surgery services. From routine tooth extractions to dental implant placement and more, they combine their decades of experience to provide state-of-the-art procedures for patients of all ages. To learn more about how oral surgery can complement your orthodontic treatment or to book a consultation, you are invited to contact the office today by calling (713) 783-5560.