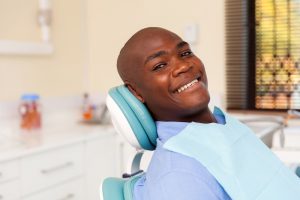 From wisdom tooth extraction to dental implant placement and everything in between, every oral surgery requires at least some type of anesthesia for total comfort. Different procedures call for different levels of anesthesia, and your oral surgeon in Houston is prepared with few options. Keep reading to learn more about local, intravenous (IV), and general anesthesia.
Our 3 Trusted Anesthesia Methods
Local anesthesia is a type of medicine injected directly into the treatment site. It numbs the tissues to remove all feeling from the area. Local anesthesia may be combined with other types of anesthesia to help you stay comfortable and wake up without any pain.

Intravenous (IV) sedation is administered through a crook in your elbow or the back of your hand. This type of anesthesia produces a twilight effect, where you are still conscious and able to answer questions from your Houston oral surgeon, but are almost completely removed from outside stimuli.

General anesthesia (GA) is reserved for healthy patients in the office setting; patients with health problems may require this type of anesthesia in the hospital. It is typically recommended for the most complex procedures. GA puts you completely to sleep throughout the duration of the surgery.
Waking Up from Anesthesia
To ensure you are always safe and receiving the proper amount of anesthetic to remain comfortable, will closely monitor your vital signs throughout the procedure. Dr. Koo and Dr. Weil have also received training in the event of rare anesthetic emergencies from the ACLS (Advanced Cardiac Life Support) by the American Heart Association.
When the surgery is complete, we will escort you to a recovery room where you are allowed to wake up at your own pace. Your loved one can sit with you during this time. Once you are ready to head back home, we will remind you again of any post-operative instructions and send you and your loved ones on your way. Plan to rest and relax for the rest of the day — and if you experience any lingering fatigue or nausea after 24 hours, don't hesitate to let us know.
We Can Help You Relax
Oral surgery doesn't have to be something to dread or fear thanks to modern anesthesia. If you have a procedure on the horizon, don't hesitate to find out from your oral surgeons in Houston more about which option might be best for you! Local anesthesia combined with either IV sedation or general anesthesia can help you have a pleasant experience and wake up without much discomfort at all. And that's wonderful news!
Meet the Practice
Your Houston oral surgeons offer comprehensive oral surgery procedures alongside comforting anesthetic options for patients of all ages. To learn more about anesthesia or how it can help you throughout your next oral surgery, don't hesitate to contact the office at 713-783-5560.