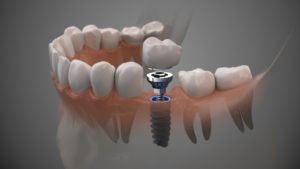 Any dentist or oral surgeon in Houston will tell you that dental implants are the best way to replace lost teeth. Not only are implants sturdy and long-lasting, but they also bolster jawbone health and enable their owners to eat virtually anything. However, one of the downsides of dental implants is their relatively long treatment timeline. Exactly how long does the process take, and how long will it be before your mouth is healed following your implant surgery? Let's discuss these important questions.
The Treatment Process
Your Houston oral surgeon may offer a number of different types of implant treatment. Each one is unique, but most of them have the following elements in common:
Consultation and planning
Preparatory treatment, such as extractions, gum disease therapy, or a bone graft
Dental implant placement surgery
Placement of implant abutments (small connector pieces that secure the artificial teeth on the implants)
Design and placement of the final restorations (the prosthetic teeth that go on top of the implants)
From beginning to end, the entire process may take several months. For some patients, it may be a year or longer between their consultation and when they receive their final restorations. Other patients are candidates for an expedited procedure with a much shorter total treatment time.
Healing After Dental Implant Surgery
One of the longest phases of the dental implant process is the healing period after dental implant surgery. During the surgery, Houston oral surgeons create space in the bone to insert the dental implants. They must also make incisions in the gums. While the gums may heal fairly quickly after the procedure, it will take longer for the bone to recover.
As the bone heals, a remarkable process known as osseointegration takes place. The implants actually fuse with the surrounding tissue. It is this natural process that is largely responsible for the implants' ability to act as prosthetic tooth roots and keep the jawbone strong and whole. Osseointegration may take anywhere from 2 to 6 months.
Speeding Up Your Healing Process
You can promote a speedy recovery after your dental implant surgery if you closely follow postoperative instructions from your oral surgeons in Houston. They may urge you to:
Avoid the use of all tobacco products
Temporarily avoid hard and crunchy foods
Maintain excellent oral hygiene
Attend all recommended follow-up appointments with your dentist and oral surgeon
Do your best to care for your overall health, especially if you have diabetes or another condition that might affect your body's ability to heal
The dental implant process can take a significant amount of time, but the end results are well worth it! Your oral surgeon will be able to give you a personalized estimate for your treatment timeline and explain the details of the road ahead of you.
Meet the Oral Surgeons
Drs. Tom Weil and Steve Koo are the experienced doctors at our Houston oral surgery practice. They are both Diplomates of the American Board of Oral and Maxillofacial Surgery. They offer many different types of dental implant procedures, and they work to ensure that each patient's treatment process is as efficient as possible. To learn more about them and the services they provide, contact us at 713-783-5560.