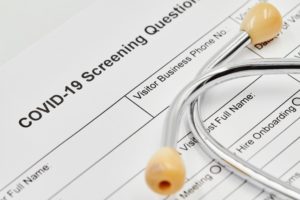 During this unprecedented time, every person has a responsibility to do everything within their power to fight the spread of COVID-19. Businesspeople, including oral surgeons in Houston, recognize that the policies they put into place can have a profound impact on the entire community. That is why they have strict safety protocols in place. In this blog post, we'll discuss some specific steps they are taking to help protect their patients, team members, and fellow Houstonians from COVID-19.
How Are You Feeling?
It has always been a standard practice for your oral surgeon to ask you about your health. In the past, their questions may have been rather broad and general. Their goal was simply to find out how your overall health could affect your oral surgery. Now, however, they also seek to find out if there is a chance that you have contracted the virus that causes COVID-19. Questions they may ask include:
Have you recently experienced a fever?
Have you recently experienced shortness of breath or a cough?
Have you recently come into contact with anyone who has been diagnosed with COVID-19?
If your answers to such questions indicate that you might have been exposed to the coronavirus, your oral surgeon is likely to recommend that you postpone your appointment and self-quarantine for at least 14 days. They may also encourage you to inform anyone with whom you have recently had contact that you might have the virus.
Additional Measures
Of course, patient health screenings are only the tip of the iceberg when it comes to how your oral surgeon is helping to battle COVID-19. Additional steps they may be taking include:
Asking patients to wear a face covering when they are not receiving treatment
Allowing fewer people into the office at any given time
Implementing frequent and extremely thorough cleaning procedures
Conducting daily health screenings of all staff members
Using PPE and plastic barriers to limit contact between patients and team members
Using high-tech equipment, such as advanced suction tools, to decrease the number of biological particles that get released into the air during procedures
Providing patients and team members with friendly reminders on how to reduce the risk of disease
And more!
Your oral surgeon takes your health seriously, and they want to do everything in their power to support the well-being of the entire community. They are proud to know that their anti-COVID-19 protocols could save lives!
About the Author
Dr. Steve L. Koo earned his Doctor of Dental Science degree from The University of Texas at Houston in 1999, after which he completed his residency in oral and maxillofacial surgery. He is committed to always bettering his skills through advanced education; that is one of the reasons why he was able to earn the honor of becoming a Diplomate of the American Board of Oral and Maxillofacial Surgery. He and the team at Piney Point Oral and Maxillofacial Surgery are focused on providing safe, high-quality care to patients even during this time of COVID-19. To learn more about us and our safety protocols, contact us at 713-783-5560.