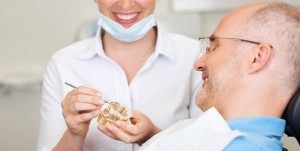 When it comes to oral surgery, Houston has one of the best practices and top Houston oral surgeons that can give you the treatment that you need before orthodontic therapy can straighten your teeth. In some cases, before orthodontic treatment can begin, surgery must occur. Orthodontic treatment straightens your teeth for a healthier and more aesthetically pleasing smile, whereas orthodontic related surgery aids in the preparation and maintenance of the jaw. The goal of the procedure is to ensure an optimal outcome for patients undergoing orthodontic treatment, promoting more desirable results and overall oral health for all patients. Our staff in Houston, TX is ready to take on your oral surgery needs as we help get you the smile of your dreams.
Oral Surgery 101
Before any orthodontic treatment can be applied, oral surgery may be needed. Some procedures are fairly common in the realm of orthodontic related surgery. They include:
Extraction of primary and/or permanent teeth: If primary teeth are keeping the eruption of permanent teeth from occurring or cause other problems, they may have to be pulled.
Corrective surgery of the jaw: A patient's bite may need correcting via a surgical procedure in order to promote efficacy of orthodontia.
Exposure of canines: If your canine teeth have yet to erupt or have outright failed to break through, it can complicate your orthodontic treatment. Canines are exposed so that brackets can be placed, eventually drawing the tooth down into its rightful position.
Wisdom teeth removal: the existence of wisdom teeth can negatively affect dentition (development of teeth and their arrangement in the mouth).
Tooth replacement: dental implants may be recommended when a missing tooth is not replaced or remaining teeth begin shifting.
Anchorage devices: Orthodontic anchors are needed to align the teeth during treatment. They are simple to place and can dramatically improve the orthodontist's control of the bite.
Schedule An Oral Surgery Appointment
If you are looking for the best oral surgeon in Houston, then Piney Point Oral and Maxillofacial Surgery is where you should go.  At Piney Point Oral and Maxillofacial Surgery, Dr. Weil and Dr. Koo will sit down with you and discuss all possible surgery options. We proudly serve patients and their families throughout the Houston, TX area including Katy, Bellaire, Galleria, Stafford and Bunker Hill Village.