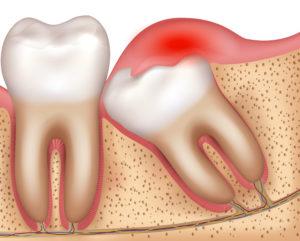 Most people get their wisdom teeth removed when they are in their teens or early 20s, but some people hesitate to commit to the procedure. They may wonder if wisdom tooth removal is really necessary. Of course, it is ultimately up to you to decide whether to get them taken out. However, you should be aware of the risks that come with keeping your wisdom teeth in place. You may suffer from infection, cysts, and damage to your other teeth.
Infection
When the wisdom teeth are partially impacted (stuck beneath the gumline), the gums are more likely to become irritated, inflamed, and infected. You might find that you repeatedly suffer from swelling and pain near your wisdom teeth. If an infection is particularly bad, you could end up with systemic illness. Additionally, partially impacted wisdom teeth are challenging to keep clean, which means they are more prone to decay and infection in the pulp (the teeth's innermost layer) than other teeth.
Cysts and Tumors
A cyst is a fluid-filled sac inside the jawbone. It is common for cysts to form inside the jawbone as a result of impacted wisdom teeth. A cyst can continue to expand until it severely damages the bone and perhaps even the nearby teeth. If the wisdom teeth are not removed during adolescence or young adulthood, cysts can be quite difficult to treat.
In some cases, tumors are the result of not removing the wisdom teeth. The tumors are benign (non-cancerous) in nature, but they can cause discomfort and even change the shape of the face.
Damage to Nearby Teeth
Most people's mouths are too small to accommodate the wisdom teeth. As the teeth try to emerge from the gumline, they can come push against the nearby teeth, causing them to shift out of place or even seriously damaging their roots. Wisdom teeth may also trap food against the adjacent molars, increasing the chance that they will develop cavities.
Consult with Your Dentist
The consequences of not removing your wisdom teeth can be serious, but if you aren't sure if the procedure is necessary for you, talk to your dentist. They will monitor your wisdom teeth at your checkup appointments and let you know if they pose a significant threat to your oral health. Even if they are not causing any problems at the moment, your dentist might recommend that you get them removed as a purely precautionary measure. If you do decide to get them taken out, you may experience the easiest and most comfortable treatment if you ask your dentist to refer you to a local oral surgeon.
Keeping your wisdom teeth is not always a "wise" move. Removing them might spare you from serious consequences down the road.
Meet the Practice
The team at Piney Point Oral and Maxillofacial Surgery features three experienced oral surgeons. They perform wisdom teeth removal with care and precision. If you are wondering if it is time to get your wisdom teeth extracted, they would be pleased to consult with you. Contact our practice at 713-783-5560 to learn more about our services.