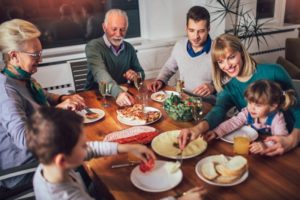 2020 and 2021 certainly haven't been the easiest years, but as 2021 winds down to its close, many families and individuals are pausing to consider the reasons they have to be thankful. Things like family and friends are rightfully among the top reasons for gratitude. But for millions of people, dental implants also belong on that list. Let's talk about some of the many advantages of this tooth replacement treatment.
The Ability to Eat Anything
Have you ever joined your family for dinner and felt embarrassed because tooth loss limited the foods you could eat? Dental implants can eliminate that problem. They are extremely sturdy, and they provide a strong bite force that can stand up to virtually any food. Whether you are feasting on turkey and stuffing, enjoying wintertime candies, or munching on popcorn as you watch the latest blockbuster movie, you can rely on dental implants to enable you to eat with ease.
Jawbone Preservation.
After the loss of natural teeth, the bone that once supported them begins to deteriorate. Eventually, the deterioration can reach the point where it affects the shape of a person's face. Research indicates that dentures can speed up this process. Implant-supported tooth replacement is different. Dental implants replace the roots of lost teeth. They stimulate the jawbone and help to keep it healthy, strong, and whole.
A Confident Smile
Missing teeth present an aesthetic concern for image-conscious individuals. Thankfully, dental implants and the prosthetic teeth that go on top of them look incredibly natural. The implants themselves are hidden beneath the gumline, and the prosthetic teeth are carefully customized to work with an individual's existing facial aesthetics. If you commit to dental implants, it is highly unlikely that anyone will be able to tell that they are not your natural teeth!
Easy Maintenance
Traditional dentures are not difficult to maintain, but many patients find it to be a hassle to remove their teeth every night for proper oral hygiene. Most dental implant restorations can be permanently fixed in the mouth, which means you can brush them just like you would brush natural teeth. This can do much to simplify your daily routine.
Years of Function
Traditional dentures tend to last for just 5 – 7 years, while a traditional bridge might last for 10 – 15 years. Dental implants, on the other hand, have the potential to last a lifetime. The restorations on top of them also have a long life expectancy. Once you finish your initial treatment, you can expect to enjoy decades of benefits.
What are you thankful for? If you invest in dental implants, you can soon be grateful for your strong and beautiful smile.
Meet the Practice
Drs. Steve Koo, Thomas Weil, and William Shepard are the three board-certified oral surgeons at Piney Point Oral & Maxillofacial Surgery. They have decades of combined experience and are able to perform dental implant placement and other related procedures. To learn more about them and how they may be able to help you achieve a healthy and strong smile, contact us at 713-783-5560.