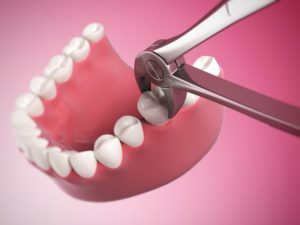 No one likes the idea of having a tooth extracted, but if your tooth is in pain, it may be easy for you to accept that it needs to be removed. But what if your tooth isn't in pain and your dentist says it should be taken out? It is understandable if you hesitate to agree to the procedure. However, it is important that you seriously consider the recommendation. There are several good reasons why a tooth extraction might be necessary even if you are not experiencing any discomfort.
Decay
Tooth decay doesn't always cause pain. In fact, in some cases it gets so bad that it allows an infection to reach the innermost part of a tooth. The infection can kill the nerve inside the tooth, which means it cannot send pain signals to the brain. However, the infection can continue to spread and threaten the health of the surrounding tissue. Removing the tooth may be an important part of your dentist's strategy to manage the problem and preserve your oral health.
Gum Disease
Gum disease is one of the most common oral health problems in the U.S. In its early stages, it is usually easy to treat and reverse. However, if it does not receive timely treatment, it can continue to worsen until it seriously damages the tissues that support your teeth, including the jawbone. As a result, your teeth may become loose and need to be extracted.
Overcrowding
Some people's genetics bestow them with extra teeth, while other people have a small jaw that cannot comfortably accommodate a full set of 28 – 32 pearly whites. In such cases, it might be necessary to remove one or two teeth. This can facilitate better oral hygiene and make it possible for you to enjoy effective orthodontic treatment.
Preventive Extractions
Although a tooth may not be causing you pain right now, it could present a risk for future oral health problems. This is often the case with wisdom teeth, which can become impacted (stuck beneath the gumline) and eventually contribute to infections, abscesses, and other serious issues. Your dentist might recommend that you get such teeth removed well before they begin to trouble you.
Your Dentist Has Your Best Interests at Heart
The idea of a tooth extraction might not be pleasant, but keep in mind that dental professionals do not lightly recommend the procedure. In fact, they usually view it as a last resort, preferring to use more conservative means whenever possible. They are also ready to talk to you about restorative options; in most cases, it is possible to replace a missing tooth soon after an extraction. Your dentist wants you to enjoy the best oral health possible!
Meet the Practice
Drs. Steve Koo, Thomas Weil, and William Shepard are board-certified oral and maxillofacial surgeons. Along with a skilled support staff, they provide a range of services, including surgical tooth extractions. If you have questions about tooth removal or tooth replacement, they would be pleased to speak with you. Contact our team at 713-783-5560.