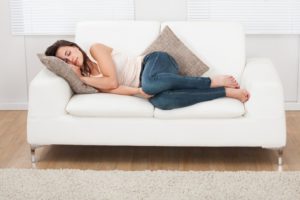 Some discomfort is normal after wisdom tooth extractions. Swelling and soreness can make it difficult to get high-quality shuteye! However, it is important that you take some time to relax so your body can focus its energy on helping you heal. Here are some practical tips for sleeping after wisdom tooth extractions:
Take Pain Medication as Prescribed
If your oral surgeon prescribed a pain medication for you, you should take it as recommended. Do not take extra if you are in more pain than expected — you might accidentally overdose. Also, it would be wise not to take less medication than prescribed. When used properly, most painkillers are safe and will not cause any ill effects.
If you do not have a prescription pain medication, try taking ibuprofen instead. It is a powerful anti-inflammatory that can significantly reduce discomfort. Just be sure not to exceed the maximum daily dosage listed on the bottle.
Keep Your Head Elevated
Keeping your head elevated while you rest will prevent blood from rushing to surgical sites. It can thus promote clotting and minimize swelling and discomfort. Most people find it easier to sleep with an elevated head while lying on their side rather than on their back.
Use a Cold Pack
If swelling is bothering you, use an ice pack on the side of your face to minimize it. However, there is a caution to keep in mind — you should not fall asleep while the ice is on your face. Extended exposure could damage your skin and lead to other unpleasant consequences. Apply the ice, wrapped in a towel, for no more than 10 – 20 minutes before you try to drift off to sleep.
Ask for Supervision
When you first get home from your surgery, you may have gauze in your mouth, which could pose a choking hazard once you fall asleep. You might need to ask someone to stay close by while you are resting and wake you up every 20 minutes or so to let you adjust the gauze if necessary. Once the gauze is no longer in your mouth, it will be safer for you to enjoy uninterrupted sleep.
Follow Your Surgeon's Instructions
Your oral surgeon may give you specific post-op directions that differ slightly from the tips provided in this article. Because they know your case on a personal level, it is best to let their advice supersede other instructions. If you have any questions about the information they provide, give them a call to ask for clarification.
Sleeping after wisdom tooth extractions may not be easy at first. As you recover, however, you can look forward to more restful nights.
Meet the Practice
Drs. Steve Koo, Thomas Weil, and William Shepard are the three oral surgeons in our practice. They have many years of combined experience, and they are all focused on providing a positive experience for each patient. If you have questions about wisdom tooth extractions or the other procedures that we offer, our team will be pleased to speak with you. Contact us at 713-783-5560.