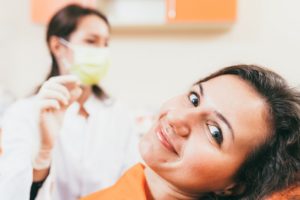 If your dentist has informed you that you must have one or more teeth removed, it is understandable if you are nervous about your procedure. After all, there are a lot of myths about tooth extraction that may make you a little apprehensive. Let's take a moment to debunk some of those myths so you can attend your extraction appointment as a confident, well-informed patient.
Myth #1: Tooth Extractions Are Painful
Your dentist or oral surgeon wants you to be as comfortable as possible, so they will numb your mouth. The numbing agent eliminates pain, but it doesn't completely deaden all sensation. You might feel pressure or tugging as the tooth is removed, but it should not be painful. If you know from experience that it is difficult for you to become numb, let your oral surgery team know. They may recommend that you be sedated during your procedure.
Myth #2: Everyone Has to Get Their Wisdom Teeth Removed
Wisdom tooth removal is widely viewed as a rite of passage for young adults. It is true that for many people, removing their third molars is the best course of action. For others, however, it is perfectly safe to hold onto their wisdom teeth. If they are not posing an immediate threat to your oral health, and your dentist determines that they are unlikely to do so in the near future, you can choose to keep them. If removal ever becomes necessary, your dentist can refer you to a skilled oral surgeon who can perform the procedure.
Myth #3: All Tooth Extractions Are the Same
There are actually two broad categories of tooth extractions: simple and surgical. Most dentists are able to perform simple extractions; they just numb the mouth and use forceps to remove the tooth as gently as possible. Surgical extractions might involve making incisions in the gums or taking other extra measures to get the tooth out. Often, an oral surgeon is the best person to perform this type of extraction.
Myth #4: Extraction Is Always the Best Way to Address Damage and Decay
Removing a damaged tooth can end a toothache, but it's not always necessary. In fact, tooth extraction is usually viewed only as a last resort. First, your dentist will determine if a root canal or another restorative treatment might be able to renew the tooth's function and appearance. Preserving your tooth will spare you from the expense of tooth replacement and renew your chewing power without extensive treatment. If they do end up recommending an extraction, you can be confident that they have already considered other possibilities.
Myths about tooth extractions are common. If you want to learn more of the truth about this procedure, ask your oral surgeon or dentist — they will be happy to share their knowledge!
Meet the Practice
Drs. Steve Koo, Thomas Weil, and William Shepard provide a broad range of oral surgery services to residents of Houston and the surrounding communities. As board-certified oral and maxillofacial surgeons, they are more than qualified to perform wisdom tooth extractions and similarly complex treatments. To learn more about them and our practice, contact us at 713-783-5560.