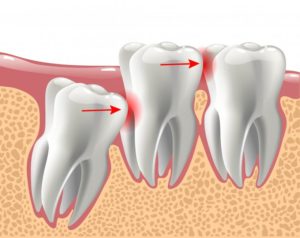 You probably know friends or family members who have had their wisdom teeth removed. You may remember that their mouth was swollen afterward, and they had to temporarily eat soft foods. The idea of going through the same surgery yourself might seem a little intimidating. It is only natural if you wonder if wisdom teeth removal is really necessary in your case. Your dentist or oral surgeon is really the only person who can answer that question. However, in this blog post, we'll discuss in general terms why wisdom teeth extractions are important for most people.
Problems Caused by Wisdom Teeth
The primary issue with wisdom teeth is that most people's mouths are too small to accommodate them. Hence, these teeth may:
Push against the nearby teeth and lead to crowding and a misaligned bite
Cause swelling and infections in the gums
Lead to painful cysts in the jaw
Trap food between them and the adjacent teeth, increasing your risk of decay
Lead to issues with your sinuses
Given the seriousness of the above problems, you should certainly consult an oral surgeon about getting your wisdom teeth removed if you are experiencing pain or swelling around them.
Wisdom Teeth Removal as a Precaution
"My mouth feels fine. Since my wisdom teeth aren't causing any problems right now, I don't need to get them removed." That is a common line of reasoning among some patients. However, keep in mind that if your dentist recommends that you get your wisdom teeth extracted, you should give serious consideration to what they say. Although the teeth might not be bothering you at the moment, they may do so within the next few years. Your dentist may have seen indications of potential future trouble when they X-Rayed your mouth. Acting quickly to follow through with the extractions may spare you from pain and complications down the road.
Choosing to Keep Your Wisdom Teeth
It must be acknowledged that as a surgical procedure, wisdom teeth removal does come with its own set of risks. Such risks are minor, but your dentist will keep them in mind when they are deciding whether to recommend that you undergo the extractions. Some individuals are able to retain their wisdom teeth for a lifetime and suffer no bad consequences because of it. Whether that will prove true in your case depends on your unique oral anatomy and the choices you make every day (for example, being conscientious about cleaning the area around your wisdom teeth may prevent problems and allow you to keep them).
Wisdom teeth removal is a necessary procedure for many people — but not for everyone. Educating yourself about the pros and cons of the procedure, as well as giving adequate weight to your dentist's or oral surgeon's recommendations, will help you decide whether you should undergo it.
Meet the Practice
Drs. Steve Koo, Tom Weil, and William Shepard are the team of talented oral surgeons at Piney Point Oral and Maxillofacial surgery. If your dentist believes that your wisdom teeth should be removed, our team is ready to assist you. We pride ourselves on providing comfortable, efficient treatment. To learn more about us and how we may be able to serve you, contact us at 713-783-5560.