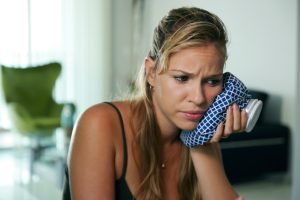 Root canal treatment may fail for reasons that are beyond the control of your dentist or endodontist. While the procedure does have a high success rate, there may be canals or branches within the tooth that are impossible to detect. The infection spreads to these areas, causing you to feel continued pain in the tooth. You have options when a root canal fails: tooth extraction, retreatment of the tooth, or apicoectomy. Dr. Weil and Dr. Koo perform apicoectomy at Piney Point Oral & Maxillofacial Surgery. Continue reading to learn more about the oral surgery in Houston.
How to Recognize a Failing Root Canal
Root canal treatment is performed on severely decayed or damaged teeth. It is the last resort before tooth extraction is necessary. Patients may experience pain, swelling, and light bleeding following root canal treatment. These side effects are completely normal following any oral surgery. Prolonged pain well after your procedure, however, is not. Recognize the following complications of root canal treatment to know if you have a failing root canal.
New pain in the tooth (i.e.: your tooth feels better after your procedure, then begins to hurt again weeks or months later)

Pain in new areas

Swelling or redness of the gum around the affected tooth

And other signs of a failed root canal
Contact your endodontist when you believe you are experiencing a failed root canal.
Options for Fixing Failed Root Canal
Your options after an unsuccessful root canal treatment include extraction, another root canal procedure, or apicoectomy.
Extraction should always be the last resort in dentistry. Replacing a tooth is expensive and requires lots of visits to your dentist. And while dental implants improve results, there is no replacement that is as good as your natural tooth. Retreatment of the root canal has a fairly low success rate, considering that the original cause of the failed root canal — undetected canals or branches — still exists.
What Apicoectomy Is, How the Oral Surgery Works
Apical surgery, or an apicoectomy, removes and refills the root's tip. While your dentist will access the infection through the tooth during root canal therapy, an apicoectomy is performed by accessing the infection through the gum. This method provides direct access to the infected tissues. Once the root's tip has been removed, it is filled to prevent the reinfection of the area. Your oral surgeon then closes the gum with stitches. Without the infection, the area is able to heal and function normally once again.
Contact Us to Learn More
You can live pain-free without the full extraction of your tooth. Dr. Weil and Dr. Koo perform oral surgery for failed root canals in Houston. Contact our office to discuss your situation and schedule an appointment today!