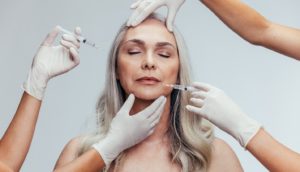 During the COVID-19 pandemic, many plastic surgeons, cosmetic dentists, and other medical professionals have seen a sharp rise in the number of people requesting BOTOX injections. That might seem strange, especially since the pandemic has decreased the amount of time that most people spend with others, so appearance may seem less important. However, looking good is never a bad idea — and there are some solid reasons why BOTOX is booming at the same time as the coronavirus.
Discretion
Many who are interested in BOTOX want to keep their treatment on the downlow. Before the pandemic, that might have been next to impossible, especially for people who had to travel to the office daily and who didn't want to take vacation time for their injections. Nowadays, more and more people are working from home, which means it is easier to stay out of the public eye while potential side effects from BOTOX, like mild swelling and bruising, subside.
Increased Awareness of Image
Videoconferencing is more widely used than ever during the pandemic. When people constantly see themselves on their computer screen, they may become extra-aware of little imperfections in their appearance, especially when those imperfections are highlighted by bad lighting or unflattering camera angles. It makes sense that image-conscious people would be moved to explore BOTOX and other treatments that have the potential to make them feel more confident when they are attending board meetings, teacher-parent conferences, or other important online meetings.
A Need for Refreshment
The pandemic increased levels of stress for practically everyone, and it continues to do so even after almost two years. Supply chain issues, opinionated debates about masks and vaccines, and other factors can cause even the most laidback people to experience some anxiety. As a whole, humanity is in need of stress relief. There is no denying that looking good can lead to increased feelings of happiness, so many are turning to BOTOX to give themselves a much-needed pick-me-up.
Catching Up with a Backlog
At the beginning of the pandemic, widespread shutdowns of various types of businesses lead to countless delayed and cancelled appointments. Now that most businesses are operating at or near full capacity, patients can rebook their appointments for BOTOX.
Is BOTOX Right for You?
Whether you love to follow trends or you just want to look your best, you might be thinking about getting BOTOX. A cosmetic dentist can make an ideal provider because they are so familiar with facial anatomy, meaning they are likely to provide you with stunning results from your injections. Why not schedule a consultation? Tending to your appearance can help you feel your best now and well into the future.
Meet the Practice
Drs. Steve Koo, Thomas Weil, and William Shepard are the oral surgeons and cosmetic dentists at Piney Point Oral & Maxillofacial Surgery. They are highly qualified to offer BOTOX and other minimally invasive facial aesthetic injections. To learn more about how they may be able to serve you, get in touch with our office at 713-783-5560.