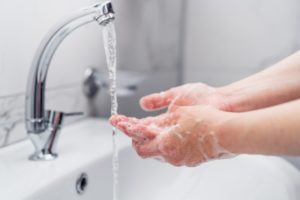 When COVID-19 began to spread, many people flocked to supermarkets to buy hand sanitizer and hand soap. There is no doubt that these items can play a pivotal role in helping you to stay healthy throughout this pandemic season — but only if you use them properly. The team at Piney Point Oral and Maxillofacial Surgery is deeply concerned about the health and well-being of our patients and the community in general. That is why we have put together this simple guide on how to keep your hands clean.
How to Wash Your Hands
Simply squirting some soap on your hands and rinsing them off is not enough to effectively clean them. You should:
Wet your hands before applying soap
Lather the soap, and rub it around your hands for about 20 seconds. Be sure to clean beneath your fingernails
Rinse off the soap under running water, not standing water. Standing water may collect germs in it
Thoroughly dry your hands with a paper towel or an air dryer. These are better than a reusable hand towel because the towel may have microorganisms lingering on it
When to Wash Your Hands
Of course, you should wash your hands after every time you use the bathroom, but there are lots of other situations when it is important to wash up:
After you get home from the grocery store or any other public place
After you cough, sneeze, or blow your nose
After you shake hands
Before and after preparing food (especially raw meat)
After you take out the garbage
After you put on your shoes
After you touch cash or any other surfaces or items that have come into contact with a lot of people
Admittedly, washing your hands frequently can dry out your skin, but that is no excuse not to wash as often as you should. Applying a moisture-rich hand lotion can protect your hands and keep them comfortable despite frequent washing.
How and When to Use Hand Sanitizer
Alcohol-based hand sanitizer is never an adequate substitute for soap and water. However, it can kill germs and help to prevent the spread of COVID-19. Here are some situations when you should use hand sanitizer:
After you touch door handles or elevator buttons
After you fill up your car's gas tank
After you push a shopping cart around a store
Before and after you touch any high-touch surfaces
To make sure you are truly benefiting from your hand sanitizer, choose a product that is 60 – 95% alcohol. Place a small amount in the palm of your hand. Then, rub your hands together until the sanitizer dries completely.
Clean hands help save lives! Use the tips in this article to protect yourself and your community from COVID-19.
About the Author
Dr. Steve Koo is an experienced oral and maxillofacial surgeon in the Houston area. After receiving is dental degree from the University of Texas at Houston, he completed his residency in oral and maxillofacial surgery at the University of Texas Health Science Center at Houston. He is a Diplomate of the American Board of Oral & Maxillofacial Surgery. Dr. Koo and our team care deeply about the well-being of our patients and our community. To learn how we are doing our part in fighting COVID-19, contact us at 713-783-5560.