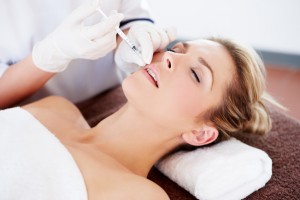 To prevent the signs of age, you can wear sunscreen, get plenty of sleep and stay hydrated… but the truth, is you'll experience some amount of wrinkles no matter what. There's no way to prevent the signs of age that occur on delicate facial tissue, but you can reverse wrinkles and rejuvenate your look with Juvederm treatments in Houston TX. Keep reading to learn more about this quick, wonderful option for a more youthful appearance.
Juvederm Reveals Your Most Youthful Look
An FDA-approved, nonsurgical option for temporarily reducing the appearance of fine lines and wrinkles, Juvederm can rejuvenate your facial tissue for a more youthful look than you'd ever dreamed possible. So many people have already enjoyed the fantastic results offered by Juvederm and similar solutions — and you probably see them enjoying their more youthful look all over town. Now you know their secret.
How Juvederm
Treatments Work
Are you interested in the Juvederm treatment? If you're worried about the appearance of smile or frown lines showing up on your face, we know you are. Let's look a little more closely at how the treatment works.
Juvederm is a filler, meaning it's injected directly into your facial tissue. By filling in wrinkles, lines and hollow areas, Juvederm reveals plumper skin and a more youthful look overall — instantly. It can be used in a number of areas on the face, including smile lines, lip lines and thin lips. The possibilities are endless.
Benefits of Juvederm Fillers
There are a variety of choices when it comes to helping patients reveal more youthful looking skin, but no other filler does the job quite as well as Juvederm fillers. Here are just a few of the benefits of choosing this treatment option.
Juvederm offers far longer-lasting results than other options. In fact, it is FDA-approved to last up to one year.

The treatment for Juvederm fillers is incredibly quick — just about 15 minutes, actually. That means you can even schedule a quick wrinkle reducing treatment on your lunchbreak, or swing by the office on your way to work!

Because it's highly customizable, Juvederm is the most versatile option available.

Juvederm is safe and effective for all skin types and complexions.
Learn More About Juvederm in Houston Today
When you're ready to refresh your skin with a rejuvenating dermal filler, don't wait to contact Piney Point OMS to learn more. We can't wait to help you look your absolute best with Juvederm!