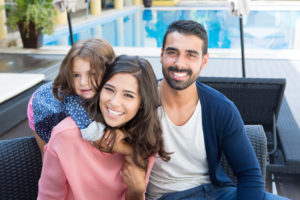 There's a lot of misunderstanding when it comes to root canal therapy — the most common of which being that it's a really painful procedure.
The truth is, these days, root canals really don't hurt. Don't believe us? We get to why (and the actual truth) below. This week's blog post separates fact from fiction regarding root canals!
Myth: Root Canal Procedures Are Really Painful
Fact: Most dental fears stem from listening to someone else's experience — like maybe you've heard your great uncle talk about a really terrible root canal he had once. Unfortunately, this secondhand information may cause people to put off the treatment they need to maintain their oral and overall health.
Visiting a trusted oral surgeon or endodontist, a specialist in root canals, can help to allay your fears and ensure that the procedure is a breeze. Modern root canals are performed under local anesthesia, and most offices offer sedation dentistry for added relaxation if you need it. So no, your root canal really WON'T hurt.
Myth: You Can Put Off a Root Canal
Fact: Healthy teeth don't ache — and if you're experiencing pain in your tooth, it's a sign you need a root canal (though not all infected teeth hurt, more on that below). Don't make the mistake of thinking you can put off visiting the dentist for that aching tooth. Doing so could put your overall health at risk, as the infection in the tooth is really close to your bloodstream and brain. In the worst cases, an infected tooth that isn't treated promptly can cause premature death.
Don't let that happen to you! Contact a dentist or endodontist right away if you suspect you have an infected tooth.
Myth: Root Canals Are Bad For Health
Fact: Some people are concerned that root canals may not be successful, but that is no reason to avoid the treatment you need. Performed by a specialist, the chances that your root canal procedure won't completely eradicate infection are slim.
Even if you do have a failing root canal, all hope is not lost. An apicoectomy performed by your oral surgeon can get you out of pain and rescue the tooth, too.
Myth: You Only Need a Root Canal If You're In Pain
Fact: While having a toothache is a common indicator that you need root canal therapy, it's not always the case that the tooth will cause pain. Sometimes a tooth that is already "dead" may need a root canal to prevent it from becoming infected.
Your dentist will take an x-ray to determine whether or not you may need a root canal treatment to protect your oral health and overall wellbeing.
And if you DO need a root canal, just remember this — there's really nothing to fear from today's endodontic procedures.
About the Authors
Piney Point OMS doctors Dr. Steve L. Koo and Dr. Thomas M. Weil are oral surgeons serving Houston with exceptional care. Both are committed to achieving excellent patient results through informed, educated, and personalized oral and maxillofacial surgery services. To learn more about Piney Point Oral and Maxillofacial Surgery, you are invited to contact the office at (713) 783-5560.