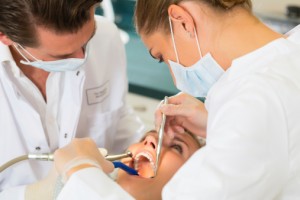 Piney Point Oral & Maxillofacial surgeons repair injuries to the face, teeth and jaws and their associated soft tissues. As the top oral surgeons in Houston, Texas, Steven L. Koo DDS and Thomas M. Weil DDS minimize scarring and achieve the best possible income for patients of all ages.
The trauma of a fall or motor vehicle accident can be devastating. Damage to the face, teeth, jaw and soft tissues such as the palate, cheeks and tongue change appearance and day to day functioning in terms of sight, breathing, speaking, swallowing and many other normal activities. Treatment takes special skill and compassion.
Dr. Steven L. Koo and his associate, Dr. Thomas Weil, perform oral surgery in the Houston, Texas area. They diagnose and treat diseases of and injury to the hard and soft tissues of the face and teeth–in fact, all non-neurological injuries. Their practice aims at the best possible outcome for each patient, returning individuals to their pre-accident condition in form, function and aesthetics.
The American Society of Maxillofacial Surgeons says that physicians who operate on the face and jaw blend art, science and education to reconstruct a face damaged by accident, malformation or disease. The Houston oral surgeons at Piney Point Oral & Maxillofacial Surgery go one step further to meld those skills to the practice of dentistry. Doctors Koo and Weil often collaborate with other dentists, orthodontists, and ophthalmologists to deliver the most innovative and technically precise treatments to patients of all ages.
The top oral surgeons in Houston, TX treat many kinds of injuries.
The professional staff at Piney Point Oral and Maxillofacial Surgery treat traumatic injuries resulting from motor vehicle accidents, domestic violence, job mishap, and recreational/sports activities. They focus on safe, comfortable and excellent treatments, including surgery, anesthesia and pain relief, with predictable results and no complications.
Some examples of the kind of injuries are:
fractures to the forehead, eye orbits, cheekbones, nose and upper and lower jaws
facial cuts and bruising
fracture, loosening and evulsion of teeth
lacerations of the gums, palate, tongue and cheeks, including biting off the tongue
traumatic misalignment of the upper and lower jaws
These Houston oral surgeons use state of the art laser therapy to revise scars resulting from oral and maxillofacial injuries. They reposition and splint teeth and can replace missing teeth with precise and natural-looking dental implants to fully restore dental function and speech. Many times, endodontic or root canal therapy is required when evulsed teeth are returned to their sockets.
Piney Point Oral & Maxillofacial Surgery achieves excellent post-injury results.
Steven L. Koo DDS and Thomas Weil DDS are highly experienced and credentialed oral surgeons in Houston. Both are Diplomates of the American Association of Oral & Maxillofacial Surgeons. Dr. Koo has special interest and skills in Orthognathic Surgery, procedures which address misalignment of the upper and lower jaws and associated bite problems.
Call their offices today for a consultation: (832) 924-3799.