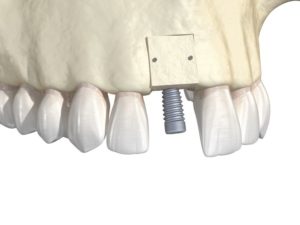 Successful dental implant treatment often depends on preliminary procedures that prepare the mouth to support the new teeth. One common preliminary procedure is bone grafting, which strengthens and enlarges the jawbone so it can bond well with dental implants. If your oral surgeon has recommended that you undergo a dental bone graft, it's understandable if you are a bit nervous — but don't worry. In this blog post, we explain what you can expect during your recovery and how you can stay as comfortable as possible while you are on the mend.
Expect Swelling and Bruising
Swelling and bruising are normal after a bone graft for dental implants. Applying a cold compress to the outside of your face can keep these issues to a minimum. Be sure not to apply ice for more than 20 – 30 minutes at a time.
Be Careful about What You Eat
Generally, it's best to stick to a liquid diet for at least 24 hours following a bone graft. It is unlikely that you will feel up to eating solid foods during that time period anyway. Things like applesauce, smoothies, and broth are all good choices. When you resume eating solid foods, be careful around your surgical site.
If you notice a grainy feeling under your gums while you chew, it's possible that some of the grafted bone granules have become dislodged. This is normal and is usually not a big deal. Most of the grafted material should stay right where it belongs.
Do Not Smoke
Smoking slows down your body's healing process and can increase your risk of infection after oral surgery, so smoking during your recovery is certainly not a wise idea. Also, keep in mind that it isn't just smoking that can interfere with recovery. Nicotine itself can also hinder healing, so nicotine patches should be avoided during your recovery as well.
Call Your Oral Surgeon with Questions
If you follow your surgeon's post-op instructions, it's unlikely that you'll run into any complications after your procedure. However, you shouldn't hesitate to call for help if you experience any strange or unusual side effects, such as severe pain or signs of an infection. The sooner you get such issues taken care of, the better.
Be Patient
The timeline for bone graft recovery varies from patient to patient and depends largely on the type of graft that is performed. A block bone graft (where a solid chunk of grafting material is placed in the jaw) may require a longer recovery than a particulate graft (where grainy, bone-like material is used).
Your overall health and other factors will also play a role in determining how long it takes for you to get back to feeling like yourself. Most people find that their gums are healed within just a few weeks. It will take longer for your bone to recover (perhaps a few months), but you should experience little discomfort after your soft tissues are healed.
Bone grafting is often an important part of dental implant treatment. Knowing what to expect after your procedure can help you commit to it with confidence.
Meet the Practice
The three oral surgeons at Piney Point Oral & Maxillofacial Surgery are able to perform comprehensive dental implant treatment, including various types of bone grafts. If you are curious about what to expect during your tooth replacement journey, they would be pleased to talk with you. Contact our office at 713-783-5560.