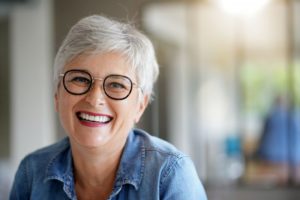 If you have traditional dentures, you might have been grateful for them at first. After all, they brought back your smile and enabled you to eat a wider variety of foods. However, you might still feel like something is lacking. If so, you may want to make the transition from dentures to dental implants. Implants provide a much more lifelike form of tooth replacement. Let's talk about what you can expect throughout your treatment journey.
Before You Get Dental Implants
If it has been several years since you lost your natural teeth, your dental implant surgeon might determine that you need a bone graft. Adding extra bone material to your jaw will ensure that it is large enough and strong enough to support your dental implants. Some patients require other preliminary treatments as well, such as periodontal therapy. When your mouth is ready to receive implants, you will have to undergo a minimally invasive implant placement surgery.
Implant Placement
Whereas your old dentures simply rest on top of your gums, your new prosthetic will be anchored in the jawbone via prosthetic tooth roots (dental implants). The implant placement surgery requires your oral surgeon to make small incisions in your gums before they carefully insert your new tooth roots. While it is understandable if the surgery makes you a little nervous, there is no reason to be afraid. You should feel little to nothing during your procedure. Most people are feeling well enough to resume a somewhat normal routine within a few days.
Can Your Old Denture Work with Dental Implants?
There is a chance that your dentist will be able to retrofit your existing denture to work with dental implants. This might be the case if the denture fits well and is made of high-quality materials. However, it is more likely that you will need an entirely new denture.
Adjusting to Dental Implants
Your new prosthetic might snap onto and off of your implants, so it will require a hygiene routine similar to what you are used to with your conventional denture. Or, your new teeth might be permanently fixed in your mouth, in which case you'll be able to treat them almost exactly like natural teeth.
Whichever type of implant denture you receive, you should try to stick to soft foods at first. After you adapt, however, you'll be able to eat virtually any food without taking special precautions. Many patients find that acclimating to an implant denture is much easier than getting used to a traditional denture.
Is your old denture not performing like you wish it would? Dental implants might be perfect for you!
Meet the Practice
Drs. Steve Koo, Thomas Weil, and William Shepard are the oral surgeons at Piney Point Oral & Maxillofacial Surgery. They use a combination of expert skill and state-of-the-art technology to perform implant placement procedures. If you would like to learn more about how you can free yourself from the hassles of traditional dentures, our team would be happy to speak with you. Contact us at 713-783-5560.