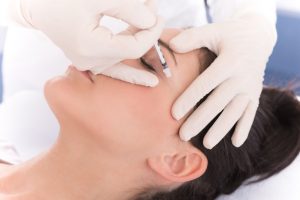 Botox is a wonderful way to achieve more youthful, radiant skin. In fact, many of your friends and colleagues have likely already benefited from the cosmetic use of this common non-surgical treatment for fine lines and wrinkles. Medical News Today reports that Botox treatments have increased 700% since the year 2000. Botox in Houston can be completed in a short appointment before work or on your lunch break — and the attractive results can last for months. Of course, it is important to make yourself aware of potential risks and side effects of any elective treatment. Keep reading to learn about the risks and effects of Botox in order to stay fully informed on your journey to picture-perfect skin.
Side Effects of Botox
There are few risks and side effects associated with Botox, or the injections of botulinum toxin. Most patients undergo this treatment without any complications at all. However, in some rare instances, people with certain genetic predispositions may experience certain side effects related to Botox injections. Additionally, it is estimated that about 1% of patients who receive Botox treatments develop antibodies that will result in ineffective follow-up treatments, which are usually recommended beginning 4 to 5 months after the initial treatment.
For most patients, however, Botox is only associated with the intended effects of smoother, more youthful skin, or with the subsidence of chronic headaches or migraines when used for this method.
Some of the unintended side effects of Botox can include…
Mild pain, swelling, or redness at the injection site

Numbness at the injection site

Headaches

Nausea

Weakness/paralysis of nearby muscles (temporary)

Temporary drooping of the upper eyelids or eyebrows

Weakened control of the eye muscles

Difficulty swallowing

Fatigue or malaise

Gallbladder dysfunction

Double vision, blurred vision, or decreased eyesight

Bleeding

Dry mouth

Rashes, hives, or swelling
Remember that these side effects are very rare and usually temporary if they do occur. Visiting an oral surgeon for your Botox treatment can help to ensure that the injections are performed safely and effectively for your continued health and wellness.
To learn more about the potential side effects of Botox and whether or not you are a candidate for this treatment, we invite you to contact Piney Point OMS to discuss Houston Botox!
Meet the Practice
Piney Point Oral and Maxillofacial Surgery offers surgical and non-surgical treatments, including Botox, for patients in and around our city. To learn more about their services or to schedule an appointment for Botox, you are invited to contact your oral surgeon in Houston at 713-783-5560.