Traumatic facial and dental injuries occurs in about 10% of the general adult population. In children, the incidence of facial injury can double or even triple. The etiology of facial and dental injuries can be caused by a number of factors. An estimated 3 million cases are admitted to emergency rooms around the US each year. The surgeons at Piney Point Oral and Maxillofacial Surgery are expertly trained any facial or dental trauma, especially in the pediatric population.

Causes of Facial Trauma Most Common in Children
Under 3 year old, the most common cause for facial fractures is falls.
Over 3 years old, the first most common cause for facial fractures are automobile accidents.
Over 3 years old, the second most common cause for facial fractures is sports-related injuries, from football, basketball, cheerleading and cycling , etc.
Breakdown Types of Dental Trauma in Children
Most common cause of dental trauma to baby teeth are among the 2-3 year old's, when motor coordination is developing.
Boys show more frequency of dental trauma in permanent dentition.
Root fractures, avulsions, concussion, luxation are types of dental fractures.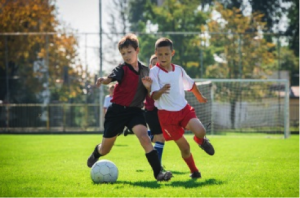 Any damage or trauma to the face should be treated immediately because facial trauma can range between minor injury to disfigurement that lasts a lifetime. In addition, pediatric facial trauma differs from adult injury because the face is not fully formed and future growth will be a factor in how the child heals and recovers. Finally the face is very important in communicating with others and for the child's self esteem. National trauma center guidelines recommend that surgeons of the face is on staff at trauma hospitals. Oral and Maxillofacial surgeons are uniquely qualified to treat facial injuries, due to their extensive knowledge of that region of the body. In particular, their understanding of facial esthetics, symmetry, occlusion, sinuses and how the jawbones connect is crucial to initial treatment plans that lead to good long-term results.