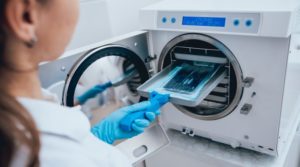 Proper dental instrument sterilization has always been of paramount importance in oral surgery clinics. However, the outbreak of COVID-19 has caused many people to wonder about the safety and cleanness of the objects in and around their mouth during dental and oral surgery appointments. There's no need to worry. Whether an oral surgeon is inserting dental implants in Houston into a patient's jawbone, performing a consultation, or doing anything else, they are careful to ensure that the instruments they use are properly sterilized. Would you like to learn more about how they do so? In this post, we'll discuss some of the basics of how your oral surgeon's team cleans their tools.
Using an Autoclave
The American Dental Association (ADA) and other reputable organizations provide dental professionals with detailed recommendations and guidelines on proper instrument sterilization. One such guideline recommends the use of an autoclave, a machine that uses superheated seam to kill bacteria and viruses that might be lingering on dental instruments.
To ensure that an autoclave can do its job effectively, the dental team must follow a specific procedure before they put the instruments in the machine. For example, they have to put on protective, puncture-resistant gloves when they are handling the instruments. They also pre-clean anything that goes into the autoclave to remove any visible debris. Then, they package the instruments in wraps that will ensure they remain sterile even after they are removed from the autoclave.
Autoclave maintenance is also critical. Test strips help the oral surgeon's team to ensure that the machine is always performing as well as it should.
Disposable Instruments
For some dental instruments (or parts of instruments), sterilization in an autoclave is impractical or impossible. That is why disposable tools are an important part of your oral surgeon's practice. Such items are used only once before they are thrown away. Exam gloves, masks, needles, and syringe tips are just a few things that fall into this category.
Sterilizing Surfaces
Of course, sterilizing various surfaces throughout the oral surgeon's office is vital in order to prevent cross contamination. Things like door handles, light switches, and countertops all undergo disinfection several times each day. Plastic barriers might also be used to stop bacteria from hiding in hard-to-clean spaces (like the spaces between the keys in a keyboard).
Your oral surgeon is committed to maintaining a safe and clean environment! If you would like to learn more about the exact steps they are taking to protect patients, they would be happy answer your questions.
About the Author
Dr. Steve L. Koo is an oral surgeon in Houston with well over a decade of experience. He is a Diplomate of the American Board of Oral & Maxillofacial Surgery and a member of numerous professional organizations. He and the entire Piney Point team have always been devoted to maintaining a safe and clean environment, and that is truer than ever now during COVID-19. To learn about our safety protocols or the services we offer, contact us at 713-783-5560.