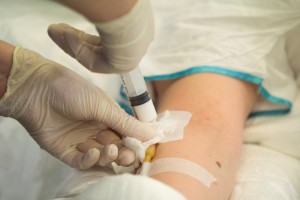 Staying informed of your choices can help you to have the best possible outcome from your upcoming oral surgery. Among a whole list of sedation options, one of the most common methods for relaxing through an oral procedure is with IV sedation. Keep reading to learn more about this top anaesthetic option.
IV Sedation Offers Deep Relaxation
Intravenous (IV) sedation, also known as deep conscious sedation, is administered directly into the bloodstream either through the top of your hand or the inner elbow. Easily adjusted to meet your unique sedation needs, IV sedation helps you achieve the deeply relaxed state you desire throughout a dental procedure.
Benefits of IV Sedation
Patients with a major fear of dental work or who are undergoing long and potentially painful procedures, like the implantation of dental implants or wisdom teeth extractions, can greatly benefit from the deep level of relaxation that IV sedation offers. Added benefits associated with this type of sedation include:
You remain awake throughout the procedure, but completely relaxed and removed from what's going on around you.

The effects of IV sedation take over immediately.

The level of medication is easily adjusted by your oral surgeon throughout your procedure.

Most patients remember little to nothing about their procedure after the medicine wears off — a big benefit for those struggling with dental anxiety.
Planning for IV Sedation
Most patients begin to feel more alert as soon as their procedure is over and the IV is removed, with its full effects wearing off soon after. Because IV sedation offers such a deeply relaxed state, you'll need to plan for someone to drive you to and from your oral procedure. Make arrangements to take it easy for the rest of the day and the next, as rest and relaxation will greatly speed your recovery time.
Possible Risks with IV Sedation
While it's not all that common, some patients experience nausea or allergies as a result of the medication in the IV sedation. And because it puts the body in an extremely relaxed state, there are a few risks involved with IV sedation. But you can feel confident knowing your oral surgery team will keep a close watch on your heart rate, breathing and blood pressure with special monitoring equipment to keep you completely safe throughout the entire procedure.
More Questions? Contact Us Today!
If you've got remaining questions about IV sedation and your upcoming oral surgery, don't hesitate to contact Piney Point OMS. Dr. Weil, Dr. Koo and the whole staff are the experts when it comes to your oral health. Call us today!