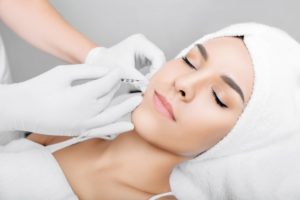 Are you thinking about investing in a dermal filler treatment? These minimally invasive procedures can help you get rid of wrinkles and sagging skin, and they can give more fullness to areas of the face that could use a little plump-up. There are numerous dermal filler options on the market today — which one should you choose? An oral surgeon in Houston is here to discuss some popular options.
Radiesse
Radiesse, also called calcium hydroxylapatite, is a substance naturally found in human bones. However, the Radiesse used in dermal filler treatments is synthetically produced. When it is strategically injected beneath the skin, it can increase fullness throughout the face and help to reduce the appearance of frown lines, marionette lines, and more. Allergic reactions and side effects to Radiesse are quite rare.
Hyaluronic Acid
There are numerous hyaluronic acid dermal filler treatments available, but Juvéderm and Restylane are among the best-known. They are often used to reduce the appearance of marionette lines, frown lines, and crow's feet. Additionally, they have the potential to diminish the appearance of facial scars, including those from, burns, acne and other types of wounds. Hyaluronic acid is naturally found in the human body and has applications that go beyond cosmetic treatments. For example, it may be injected into the joints of people with arthritis aid their mobility.
Voluma
Voluma is another hyaluronic acid dermal filler. However, it is different from Juvéderm and Restylane because it is designed specifically to treat the mid-face area. It also has the potential to last for up to two years, whereas other hyaluronic acid treatments may need to be touched up every few months.
Bellafill
The scientific name for Bellafill is polymethyl-methacrylate microspheres, or PMMA. It stands out amongst dermal fillers because the body does not absorb it, a fact that means Bellafill can produce permanent results. If you opt for this treatment, be sure to choose a Houston oral surgeon with a skilled hand. Improper injection, or injecting too much Bellafill at once, might make your face look "overfilled" or unnatural.
Silicon
Similar to Bellafill, silicon, including the microdroplets that are used as a dermal filler, doesn't get absorbed by the human body. Hence, results of a silicon treatment can last for years. This type of dermal filler often works alongside other treatments to fill in wrinkles and lines.
Which Is Right for You?
All of the dermal filler options can seem a little overwhelming! A skilled doctor can answer your questions about your choices and help you settle on the one that best fits your unique circumstances.
Meet the Practice
Drs. Steve Koo, Tom Weil, and William Shepard are a team of oral surgeons in Houston who offer a broad range of treatments to help patients look and feel their best. They have the skills and experience necessary to provide a range of dermal filler treatments, as well as Botox and other cosmetic procedures. If you would like to discover how they can help you love what you see in the mirror, contact our office at 713-783-5560.