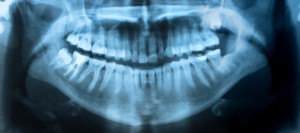 At Oral and Maxillofacial Surgery in Houston, TX, Dr. Steve Koo and Dr. Thomas Weil often extract wisdom teeth. Also called third molars, your wisdom teeth are located far back in your mouth and are the last set of teeth to come in, usually between the ages of 17 and 25 years of age. They are called wisdom teeth, because there was a time when this age range was considered maturity, or the "age of wisdom." And why do we have wisdom teeth? One theory is that our human ancestors needed these teeth in order to be able to chew their food, which consisted of uncooked, hard items such as roots, nuts and meat. Now, however, the human jaw is smaller and can rarely provide adequate space for wisdom teeth. Therefore, wisdom teeth extraction is usually recommended.
When you come to Piney Point Oral and Maxillofacial Surgery for an evaluation of your wisdom teeth, or those of your son or daughter, Dr. Koo or Dr. Weil—the oral surgeons Houston trusts—we will first determine whether these large teeth will fully erupt into the dental arch or whether they will become impacted. Because of the lack of space, wisdom teeth can grow sideways, only partially emerge from the gums (called partially impacted wisdom teeth), or get trapped in the gums and jawbone (impacted wisdom teeth).
Wisdom teeth that are partially impacted are more susceptible to infection, inflammation, tooth decay and periodontal disease. This is because they are located so far back in your mouth, so keeping them clean and free of bacteria is difficult. Even when wisdom teeth fully erupt through the gums, food is easily trapped in the grooves of these teeth and between these and your other teeth. Consequently, cavities and gum disease are more likely to develop.
In addition, wisdom teeth can put pressure on adjacent teeth and eventually cause shifting or over-crowding of other teeth. This is of particular concern for someone who has recently undergone orthodontic treatment.
For Oral Surgery, Houston turns to Piney Point Oral and Maxillofacial Surgery
Dr. Koo or Dr. Weil will determine whether or not your wisdom teeth need to be extracted. How they are extracted depends on your unique case. For some people, teeth can be removed simply by applying traditional tooth extraction techniques. For others, wisdom teeth are sectioned into smaller pieces of tooth, which are then removed one at a time. The advantages of this technique are that because bone removal is minimized, patients generally heal more rapidly and have less discomfort following the surgery.
Call Our Office Today
If you or someone you love needs to have wisdom teeth extractions, call the specialists at Piney Point Oral and Maxillofacial Surgery in Houston, TX. We serve the Houston, TX, area and the surrounding cities of Stafford, Bellaire, Lamar Terrace, Briargrove, Hedwig Village, and Katy.