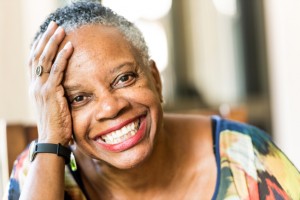 When it comes to tooth replacement, the options may seem overwhelming or confusing: crowns, crown and bridge, full dentures, partials, dental implants. The list could go on, but at our Houston, TX oral surgery practice, Drs. Thomas Weil and Steve Koo recommend dental implant tooth replacement for the most secure, durable, versatile tooth replacement available. Thanks to our knowledgeable team, more patients than ever are able to receive the dental implants Houston residents rely on. For Houston dental implants done right, call Piney Point Oral and Maxillofacial Surgery today.

Traditional Dentures Houston
For years, thousands of years actually, dentures have been the go-to tooth replacement option for patients missing most or all of their teeth on the top or bottom arch. The first set of dentures on record was found in northern Italy, and dated to the 7th century BCE. These false teeth were comprised of human and animal teeth fastened together with golden bands. They definitely didn't look the most natural, but they likely got the job done. Modern dentures are much more aesthetically appealing, durable, and comfortable. Traditional dentures are customized replacement teeth set into a gum-colored base, and molded to fit snuggly over the gums. With suction or dental adhesive, dentures stay in place allowing edentulous (toothless) patients to smile, eat, and speak with renewed confidence.
Dental Implants Houston Loves
Most people consider dental implants to be the cutting edge of dental technology, but actually people have been using dental implants for almost as long as traditional dentures. Skulls from the ancient Maya people reveal various attempts at implant dentistry including teeth crafted from jade, seashells, and other rocks or precious metals. These ancient dental implants were surprisingly successful remaining fused to the jawbone after years of decomposition. Examples like these teach current dental practitioners valuable lessons about the mouth's ability to adapt.
Modern implant retained dentures first gained popularity in the 1970s, look much like traditional dentures, and in fact, can be crafted from existing dentures in many cases. Instead of being held in place through natural suction or using dental adhesive, implant-retained dentures are permanently secured to titanium posts surgically implanted below the gum line that fuse with the jawbone to support dental prosthetics. These natural looking and feeling tooth replacement options drastically improve oral health for traditional denture wearers by:
Looking more like natural teeth to the casual observer
Feeling more like natural teeth to the wearer
Preserving and restoring jawbone density
Supporting gum tissue to retain facial shape
Permanently, securely attaching dentures returning up to 70% of chewing ability compared with traditional dentures
Allowing wearers to clean with regular flossing and brushing like natural teeth rather than removing for overnight soaking
Lasting a lifetime with proper care and maintenance
Call for the Implant Retained Dentures Houston Prefers
Call to find out more about the implant retained dentures Houston residents prefer from the implant surgery experts at Piney Point Oral and Maxillofacial Surgery. Our team looks forward to helping you get the complete, beautiful smile you desire.