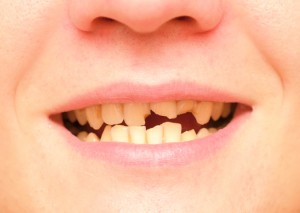 While oral and maxillofacial surgeons offer a wide variety of services including preparation for dentures or braces, temporomandibular joint (TMJ) disorder management, and other preparatory or preventive treatments, caring for patients following dental trauma is one of our primary purposes. During the additional training completed by oral and maxillofacial surgeons, the majority of dentists spend time completing residency in a hospital setting. This hospital training gives dentists the opportunity to familiarize themselves with traumatic facial injuries and their treatments. Oral and maxillofacial surgeons are often referred to as the link between dentistry and medicine, and this idea is never more clear than it is when treating traumatic oral or maxillofacial injuries in conjunction with general dentists and physicians. The goal of oral and maxillofacial surgeons, and most general dental practitioners and medical doctors, is to provide patients the highest quality treatment to restore natural look, feel, and function.

Our Reconstructive Surgery Services Include
Oral and maxillofacial surgeons are the experts in any non-neurological, surgical treatment of the mouth, face, and neck. Some of the common reconstructive surgeries we provide include:
Repaired facial fractures including frontal bone (forehead), orbits (eye sockets), cheekbones, nose, and jaws.
Healed lacerations (cuts) of the face, scalp, ears, and neck, and any dental damage that may occur in conjunction with these cuts.
Restored oral health following injury to the teeth, gums, lips, tongue, cheeks, and other dental structures.
What Patients Need to Know Before Oral and Maxillofacial Surgery
Before undergoing oral surgery, patients should prepare by asking their oral surgeon a few basic questions.
Will my mouth be wired shut? Typically not, but there are a few treatments that still require this.
When can I return to work? Usually in under a week (about 3 days is average).
Will there be scars? There may be, but advanced techniques and technologies make these extremely minimal, and in almost all instances, we can hide even the smallest scars within natural facial structure.
What if I have an emergency? Patients who experience emergency facial trauma or concerns during the healing process can contact our team at any time. We are available 24/7.
Find Out More Today
If you're interested in finding out more about oral and maxillofacial surgery, need a Houston area oral surgeon, or are interested in a second opinion following your oral surgery referral, contact the experts at Piney Point Oral and Maxillofacial Surgery today.